I have a confession: I'm a coffee addict. Yep, I'm one of those people who is a completely different person before I've had my morning brew. And while my bank account might prefer me to simply brew some at home, my heart continues to pull me to one of Atlanta's many incredible coffee shops. Here are 6 coffee shops you can't miss!
Octane might be on its way out (it was recently bought out by another great local coffee giant Revelator – also on this list), but I will be visiting each of its locations until the day they close! With four locations in Atlanta, Octane is more than a place to get delicious coffee; it's a destination. I've met at Octane for business, pleasure and everything in between. And while their lattes are killer, did you know Octane also has a full bar?! Talk about having it all.
Chattahoochee Coffee Company – Riverside
When it comes to coffee with a view, nowhere even comes close to Chattahoochee Coffee Company's Riverside location. Located on the Chattahoochee River, this coffee shop is incredibly serene, making it the perfect spot to read a book, get some work done or catch up with friends. But be sure to remember that (unfortunately) this location is only open to the public Monday through Friday. Chattahoochee Coffee Company's Westside location is open seven days a week with equally great coffee, but sadly no views.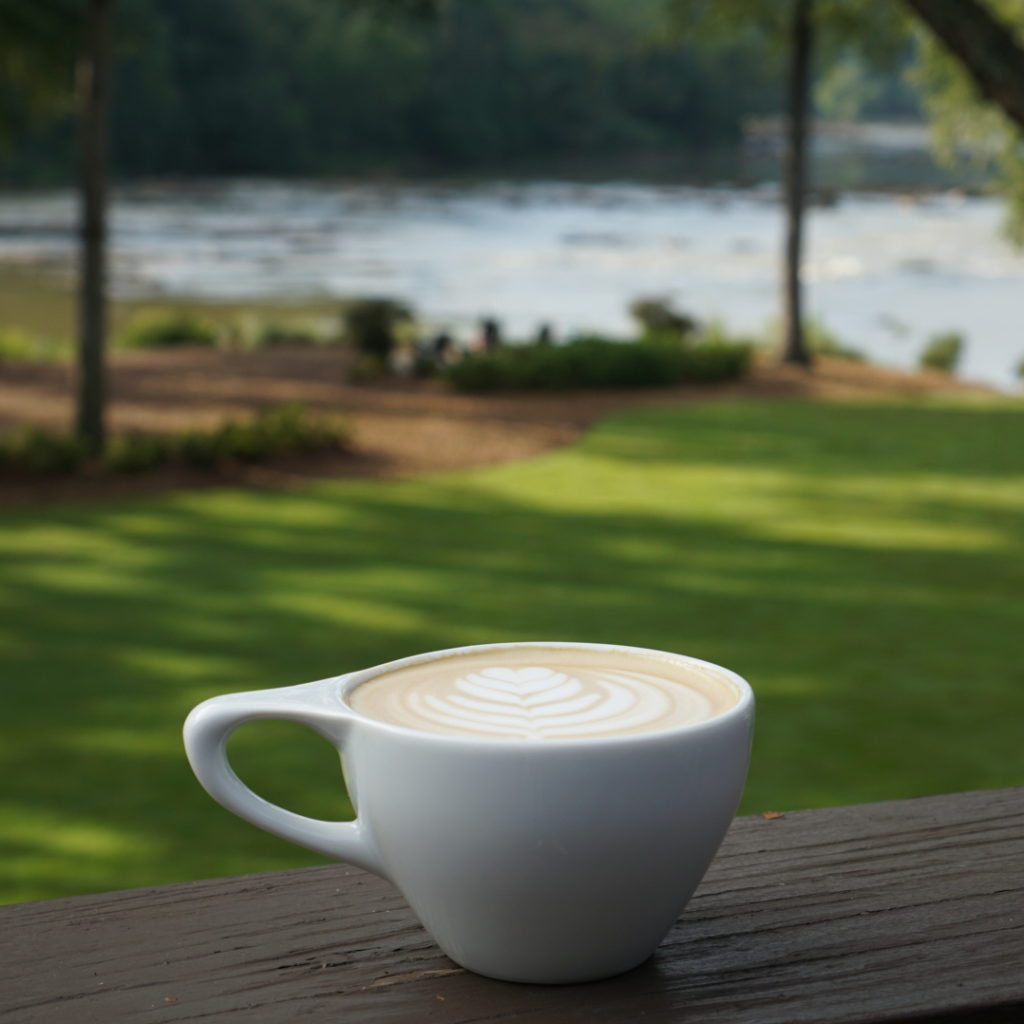 Dancing Goats Coffee Bar opened its first location in Decatur in 2007. Serving Batdorf & Bronson's iconic coffee, Dancing Goats quickly became an Atlanta staple. The second Dancing Goats location was the first business to open when Ponce City Market (re)opened its doors. And while the coffee is delicious, I'm also a sucker for the baked goods! Some of my personal favorites include the mini doughnuts, scones and mini hand pies (aka homemade poptarts)!
Brash is the quintessential example of "great things come in small packages." The entire coffee shop is no bigger than my bedroom and – fun fact – the structure is made out of recycled shipping containers! Located right by Yeah Burger in Westside Provisions, Brash is small but mighty! My go-to Brash drink is the cortado and the pastries are awesome, too.
The king of coffee in Atlanta's Old Fourth Ward neighborhood is Chrome Yellow Trading Co. It's a hangout, study space, coffee shop and even includes a boutique! And for all you Stumptown Coffee lovers, you're in luck! Because that is Chrome Yellow's brew of choice. After a cup of coffee from Chrome Yellow Trading Co. I'm wired for the day. (And that means a lot coming from me!)
Brash isn't the only coffee shop great in Westside. When Revelator Coffee Company opened its doors earlier this year I knew I had to check it out. With its sleek, white countertops, big windows (makes for great photos!) and delicious menu, Revelator has become one of my coffee favorites. I especially love the new breakfast menu that includes delicious toasts: avocado and peach!
I hope this list helps you stay caffeinated! Did any of your favorites make the list? Let me know in the comments!