Atlanta is known for a lot of things. Beautiful parks, southern hospitality, amazing food and more. But did you know it's also known for beautiful wall murals? Through my Atlanta adventures, I've come across many of these vibrantly colored walls painted by incredibly talented local artists. Here are a few of my favorites:
Reincarnation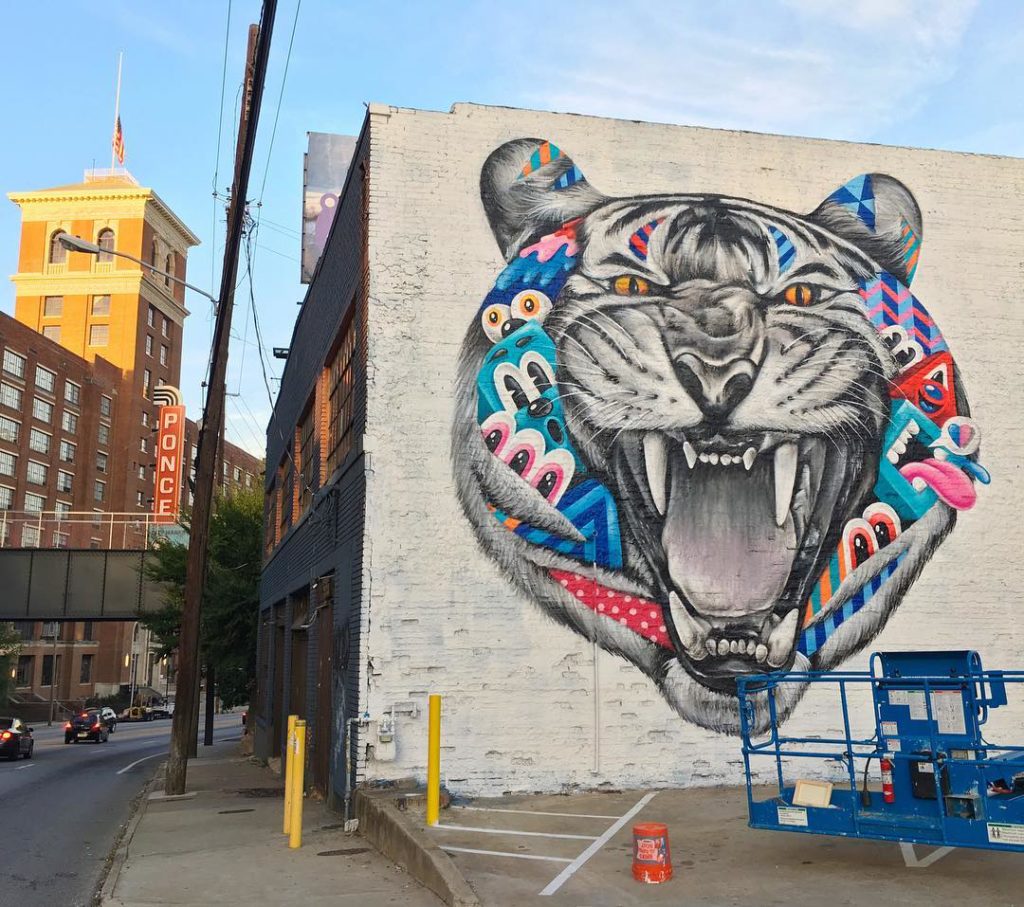 Greg Mike is a bit of a wall art celebrity here in Atlanta. Known for his recurring art character "Larry Loudmouf," Greg Mike always makes a splash in the Atlanta art scene when he reveals a new mural. And this one, named Reincarnation, was especially big. The mural is a nod to a previous Greg Mike piece that was sadly painted over. Needless to say, his fans were thrilled to see Reincarnation pop up on the wall right near 8Arm in Old Fourth Ward.
Sanithna's Outerspace Project Mural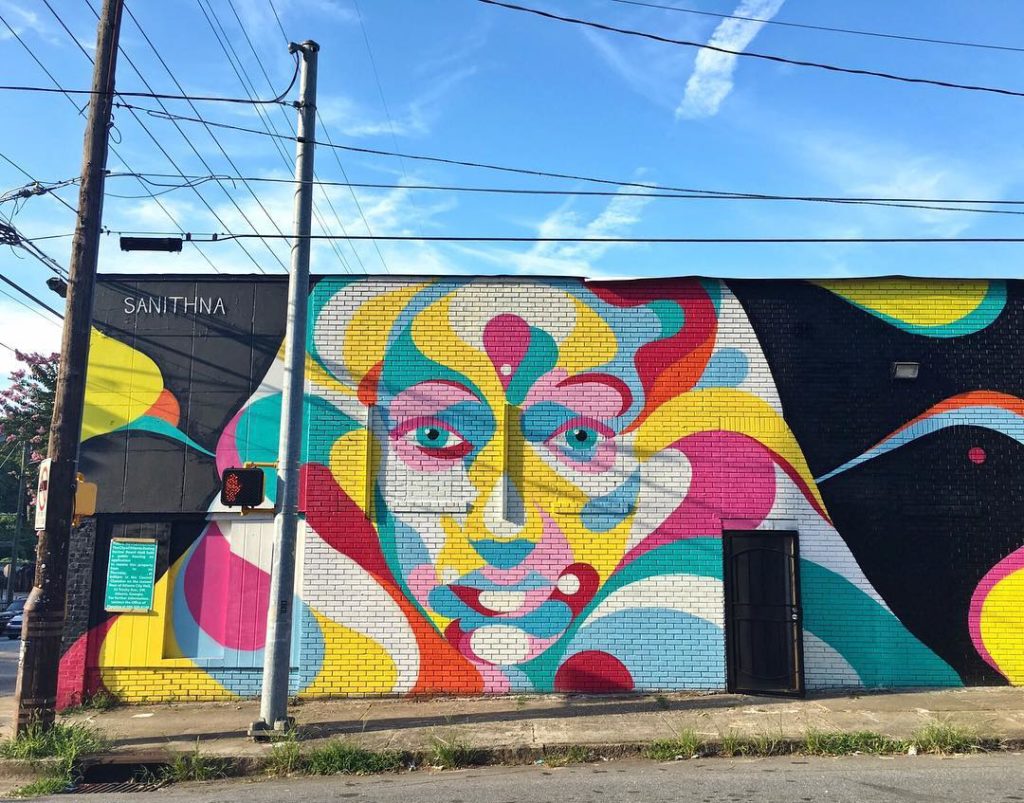 The OuterSpace Project is a city-wide series of art, music, culture and more. And at the center of this event is the creation of murals across Atlanta. There were so many incredible pieces of art from 2016's event, but one of my favorites was this colorful creation by Sanithna. And just in case you want to check it out for yourself, this mural is located at 1 Moreland Ave SE.
Honey, Now We're Urban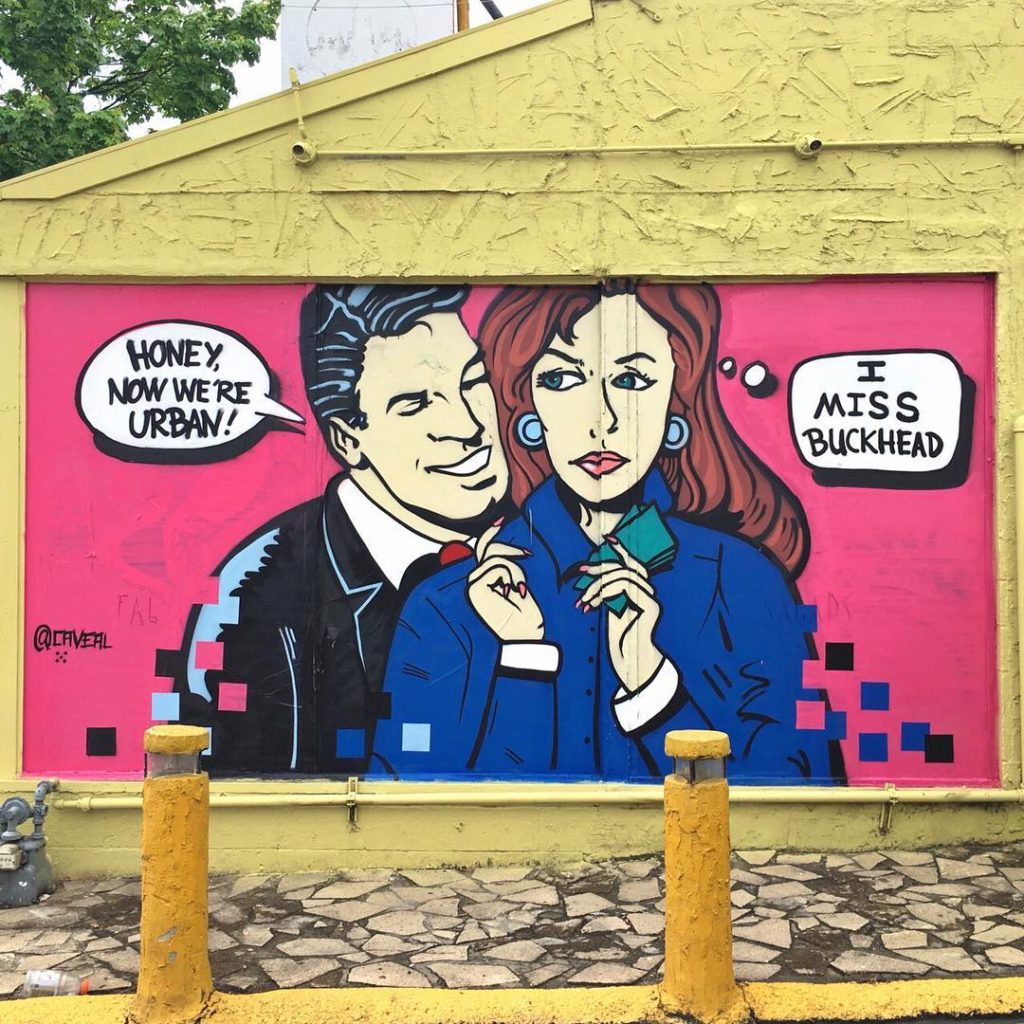 Chris Veal is another artist who has been creating a ton of buzz in Atlanta. This mural is located in Old Fourth Ward, just down the street from Ponce City Market. And no matter what your opinions are on the growing gentrification in Atlanta, you can't help but love this scene – and laugh a little too.
Felipe Pantone's Outerspace Project Mural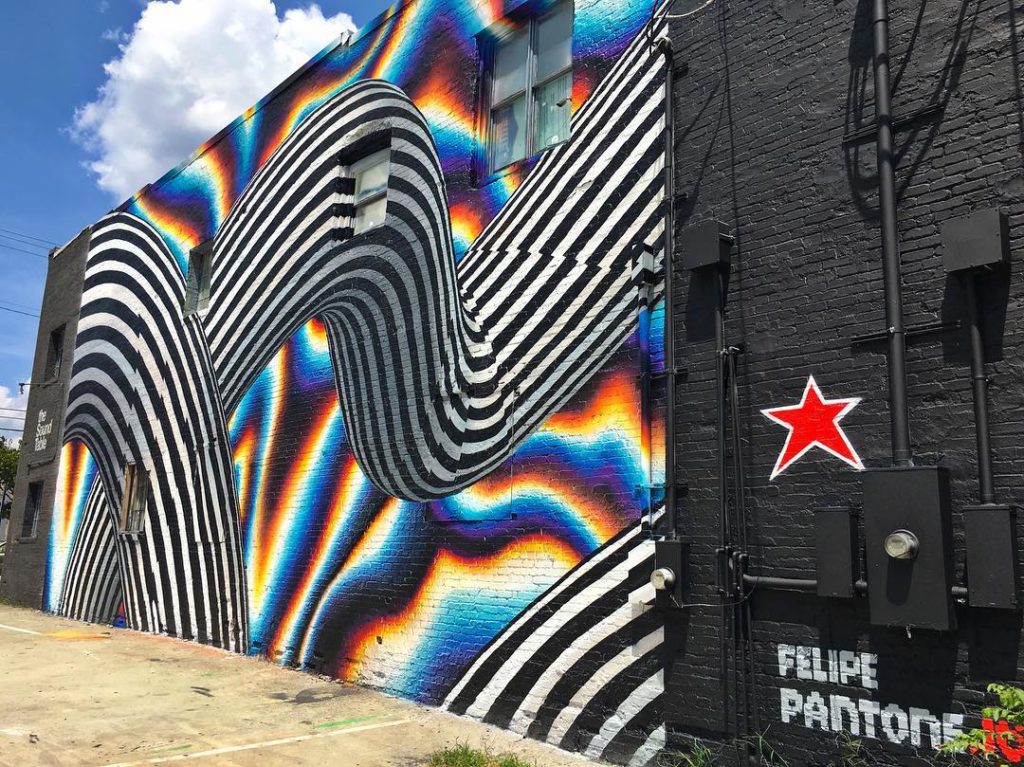 Another captivating wall mural that resulted from the OuterSpace project was this piece created by Felipe Pantone. This psychedelic mural is located on the side of The Sound Table in Edgewood. It's hard not to stare at this awesome wall while walking or driving by.
Yoyo Ferro's College Park Mural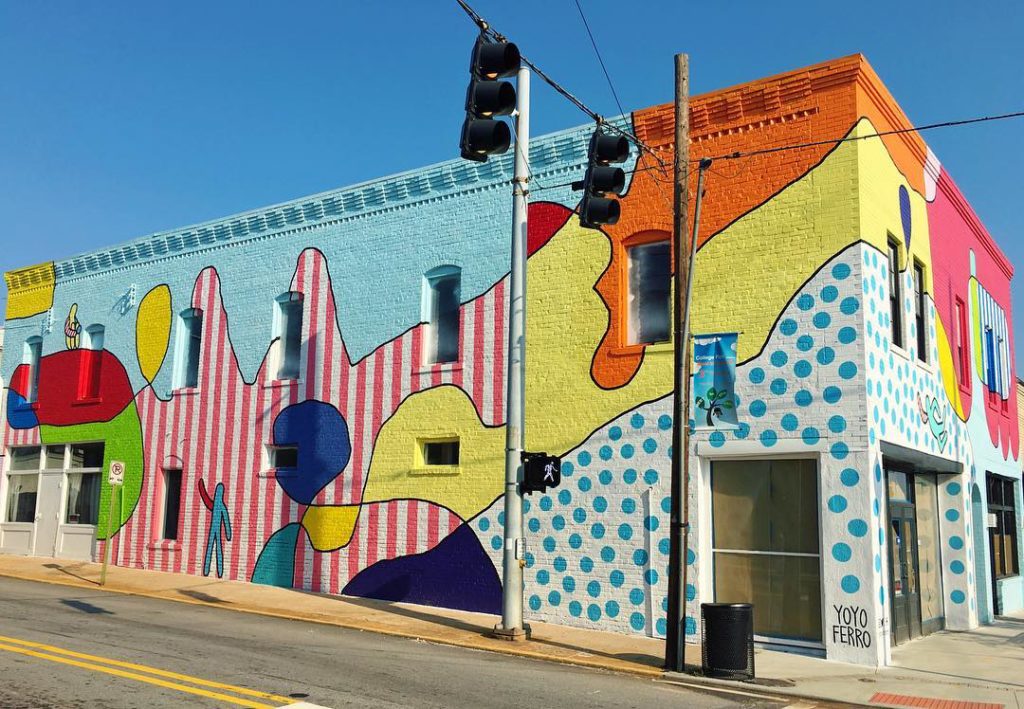 It's not just one part of Atlanta that is getting splattered with paint, it's all of them! And College Park is no exception. This vibrant and fun mural was painted by Yoyo Ferro, a local artist, and is located on the corner of Main St. and Harvard Ave. It's one of my favorite things about Main Street!
Greg Mike Mural

Another can't-miss Greg Mike mural is in Inman Park near BoccaLupo and Revolution Doughnuts. Larry Loudmouf is front in center, and the colors and shapes are instantly recognizable as Greg Mike's work.  The texture of the wall also adds a cool element to this one.
Atlanta Mural at the Glenn Hotel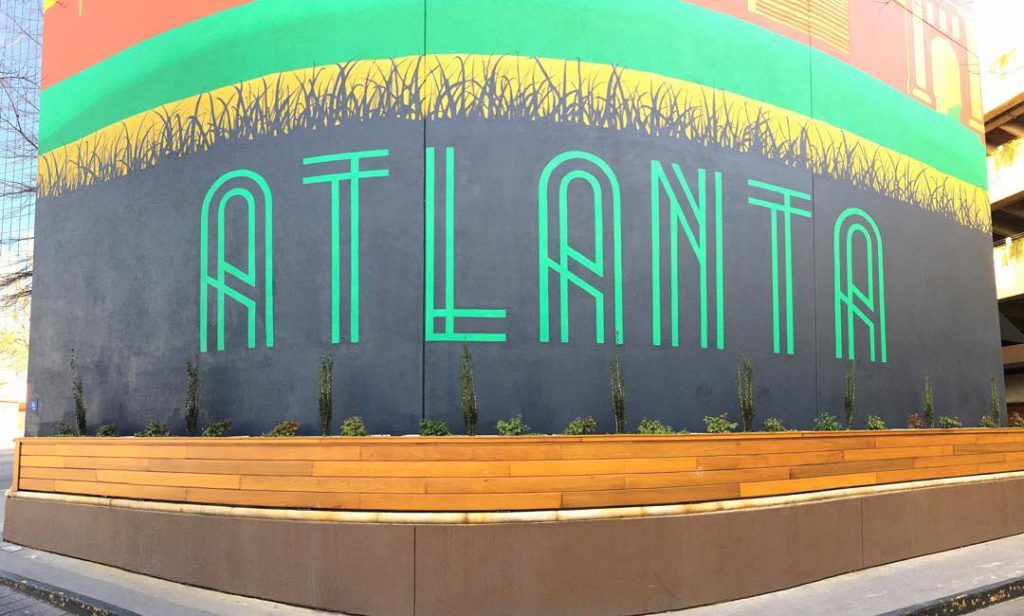 All of the intricate murals are incredible, but there is something equally beautiful as a simpler one that focuses on the city we all know and love so much! I was really excited when I came across this Atlanta mural at the Glenn Hotel in Downtown Atlanta. So excited that I decided to park my car to get a photo!
Rush Hour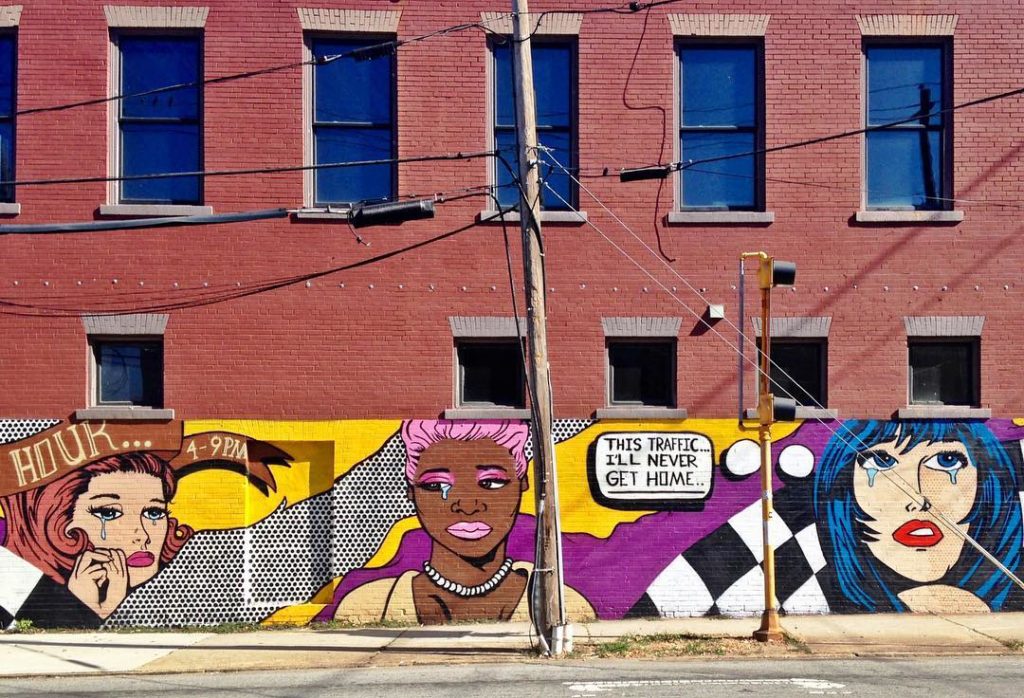 As any true Atlantan knows, our traffic has been known to shed a tear or two! Want to get anywhere fast after work? GOOD LUCK. So when Chris Veal revealed this mural we all couldn't help but talk about it! Everyone can relate to the humorously truthful message he is sending with this one. This mural is located at the corner of Edgewood Ave & Boulevard. 
Atlanta Humane Society Mural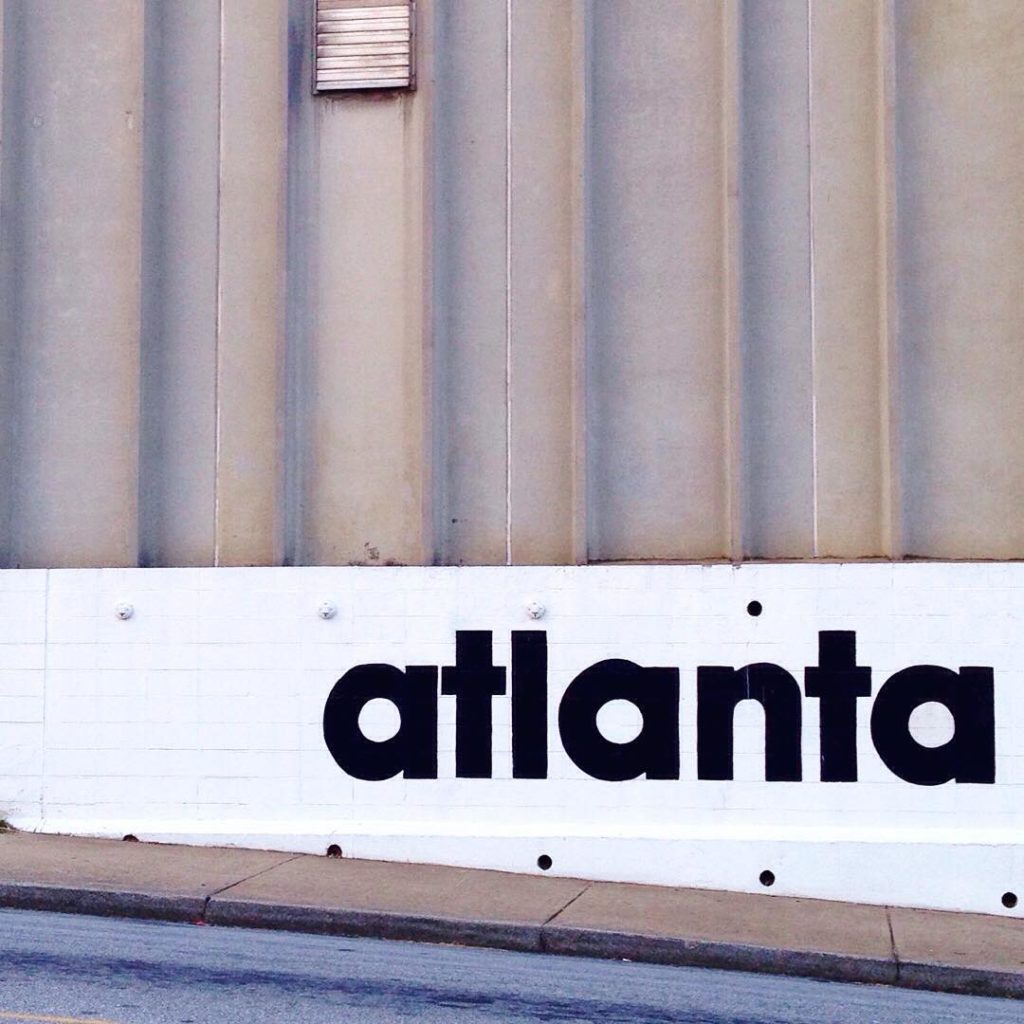 This Atlanta mural is located at the Atlanta Humane Society in Westside. (The full mural reads "Atlanta Humane Society.") It may be simple, but this mural is loved by many. People will often sit on top of the ledge to take a photo – I know I've been guilty of it!
Atlanta Made Mural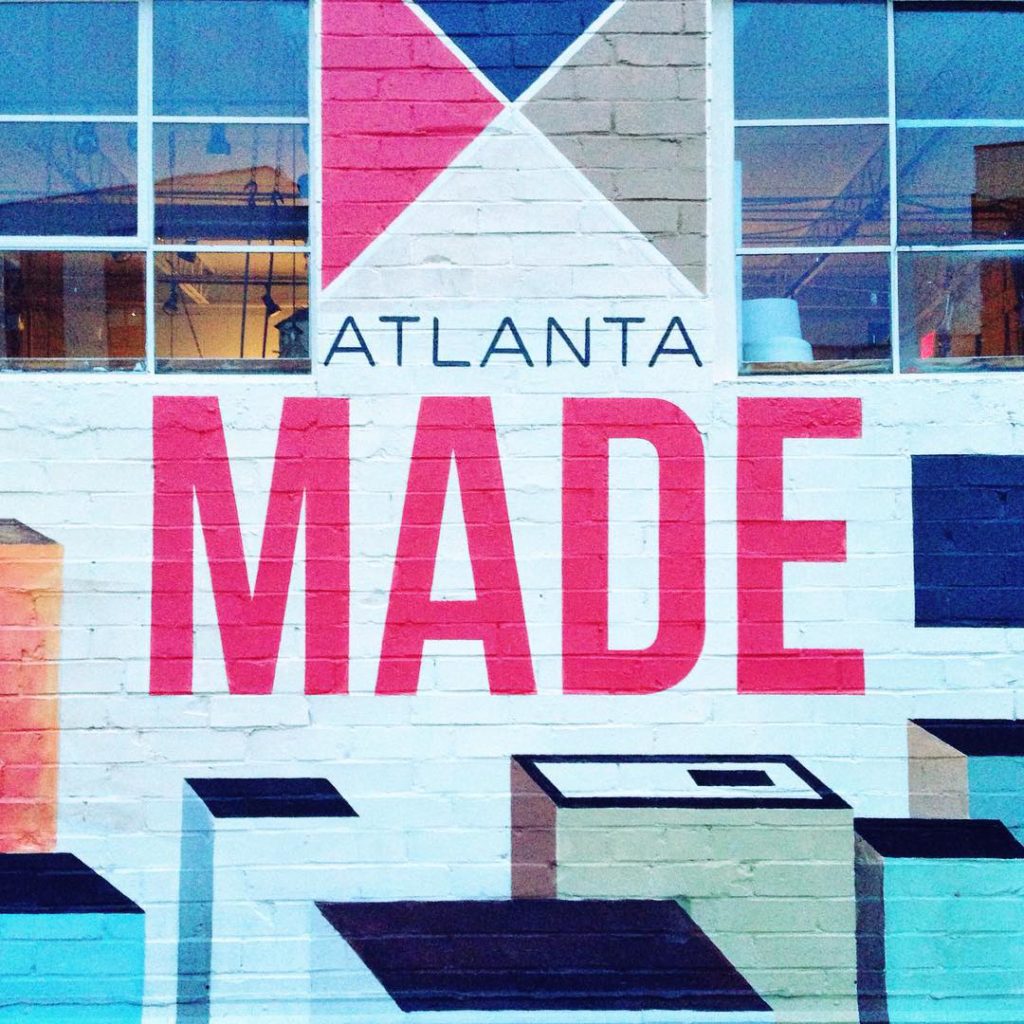 The "Atlanta Made" mural is located right outside of Atlanta MADE, a Westside showroom featuring locally made products. I know the mural was created for the shop, but I think that it resonates with all of us Atlantans. Atlanta holds a little piece of each of our hearts and has certainly made me who I am today.
Welcome to Inman Park Mural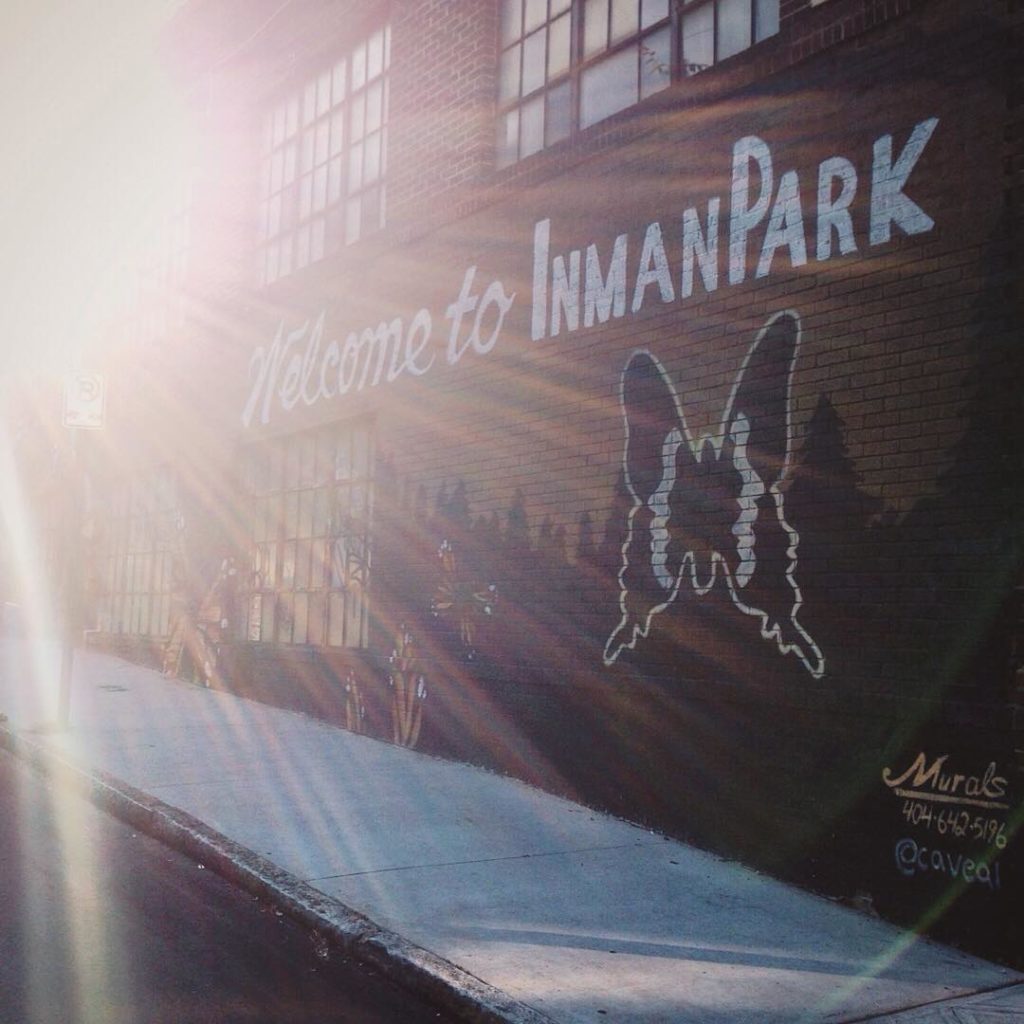 Located right by the King of Pops window, the "Welcome to Inman Park," mural created by Chris Veal is another one of my favorite murals in all of Atlanta. And did you know there is a story behind the Inman Park butterfly? The butterfly wings contain two faces: one looking to the past, or the youthful years of Inman Park, and another looking to the future, or seeing its flowering beauty. An awesome story for an awesome mural.
We Love ATL Mural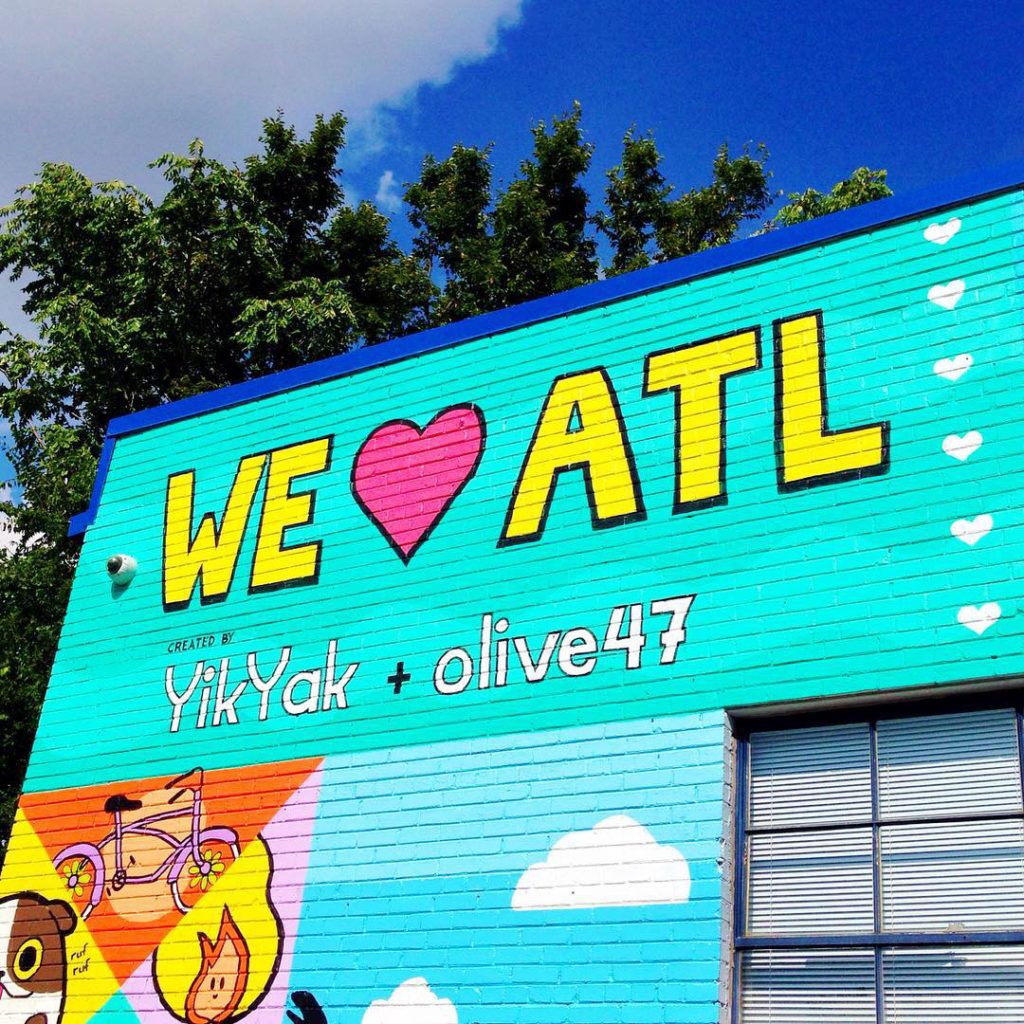 Created by Olive 47, this mural on the Icebox building at the entrance of the Atlanta Beltline Eastside Trail is awesome. The full mural is vibrant and full of cute little illustrations, but I love this part best because I have so much love for ATL!
Which of these murals do you like best? Did I miss any of your favorites? List them in the comments below!