True Food Kitchen has been one of my go-to "healthy and delicious" restaurants ever since I moved to Atlanta. And the thing I love most about it is you still get all of the amazing flavors, but with health-driven and nutrient-rich options. The general manager at our Buckhead True Food said it best: We're just a delicious restaurant.. that happens to be healthy!
So when True Food Kitchen asked me to come in and taste its newest menu (yes, True Food changes its menu seasonally!), I was totally on board. And I'm so happy I did because I tend to be a creature of habit and order the same few items every time I go, but this time True Food Kitchen opened my eyes to some of the most delicious items on the menu – both old and new!
The Drinks
Whether you're looking for something that'll give you a little buzz or simply something that tastes delicious, True Food knows how to do drinks. The Kale Aid has been my favorite juice for years, and our waitress suggested I try one of the new refreshers: the Hangover Rx. It was super refreshing and tasty – I can see why it would be great for hangovers!
And as for cocktails, my go-to is usually the Thai Grapefruit Martini (it's amazing!) but this time I ordered one of the spring cocktails: the Blueberry Royale. I loved the bubbles!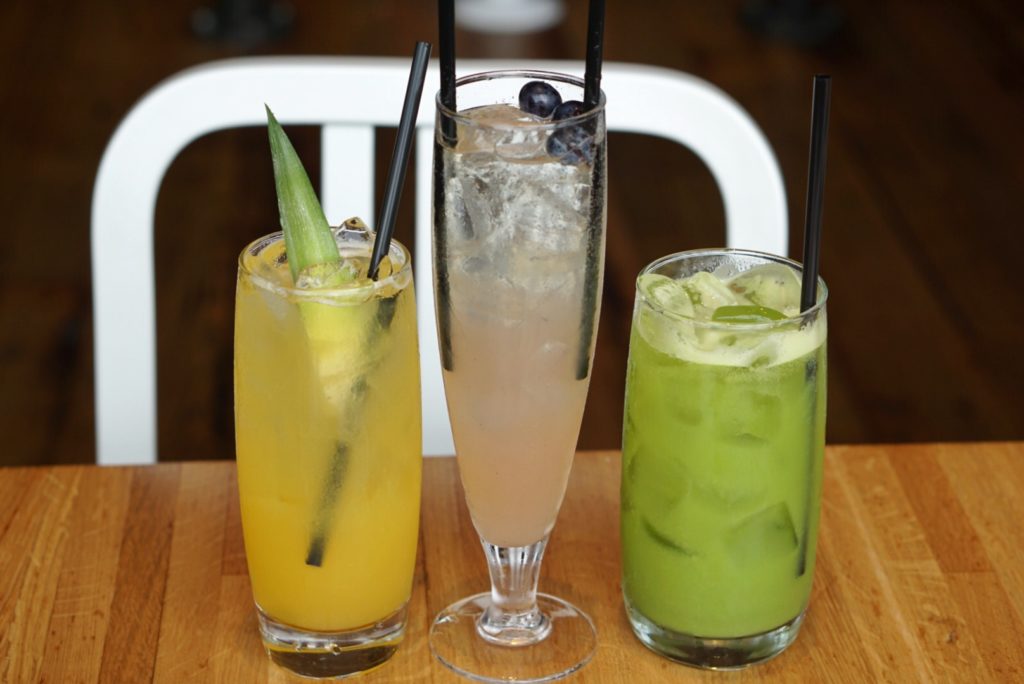 Hangover Rx: pineapple, orange, honey, coconut water
Kale Aid: kale, ginger, apple, celery, cucumber
Blueberry Royale: organic vodka, lemon, prosecco, mint
The Appetizers
Two new appetizers that blew me away were the Torched Avocado and Charred Cauliflower. I'm a true believer that avocados make everything better, so an appetizer centered around it is pure heaven! And the cauliflowers…. WOW. Whether you think you like cauliflower or not, try this appetizer. The charred flavor mixed with the spice of the tahini was the perfect contrast to the sweetness of the dates!
Every season, True Food Kitchen comes out with a new Seasonal Ingredient Salad. I was sad to see last season's go, but this one definitely made up for the loss! The dressing was light yet flavorful, and all of the vegetables at True Food are always fresh as can be.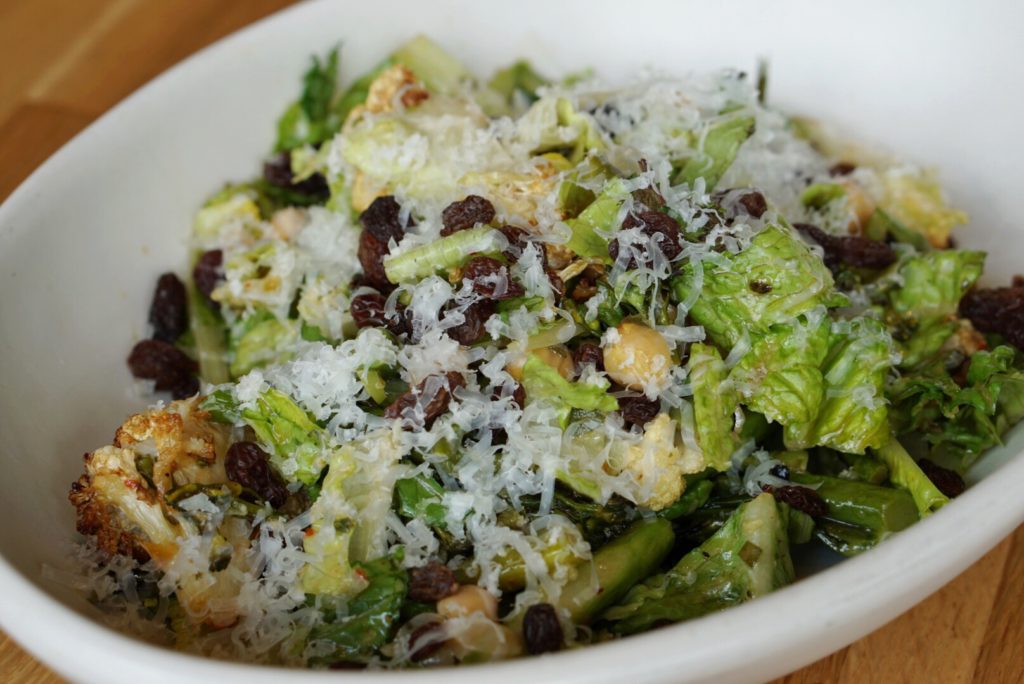 Torched Avocado: cucumber noodle, mushroom, snap pea, radish, sesame, turmeric ponzu
Charred Cauliflower: harissa tahini, medjool date, dill, mint, pistachio
Seasonal Ingredient Salad: asparagus, broccolini, roasted cauliflower, chickpea, pistachio, raisin, manchego, sicilian vinaigrette
The Main Course
I'll be honest. When our waitress suggested a pizza with vegan cheese I was skeptical. Not that there is anything wrong vegan options! I'm just serious about my cheese… But man was I happy when I took a bite from the Roasted Artichoke Pizza. The vegan almond ricotta was incredible and the pizza was cooked to perfection.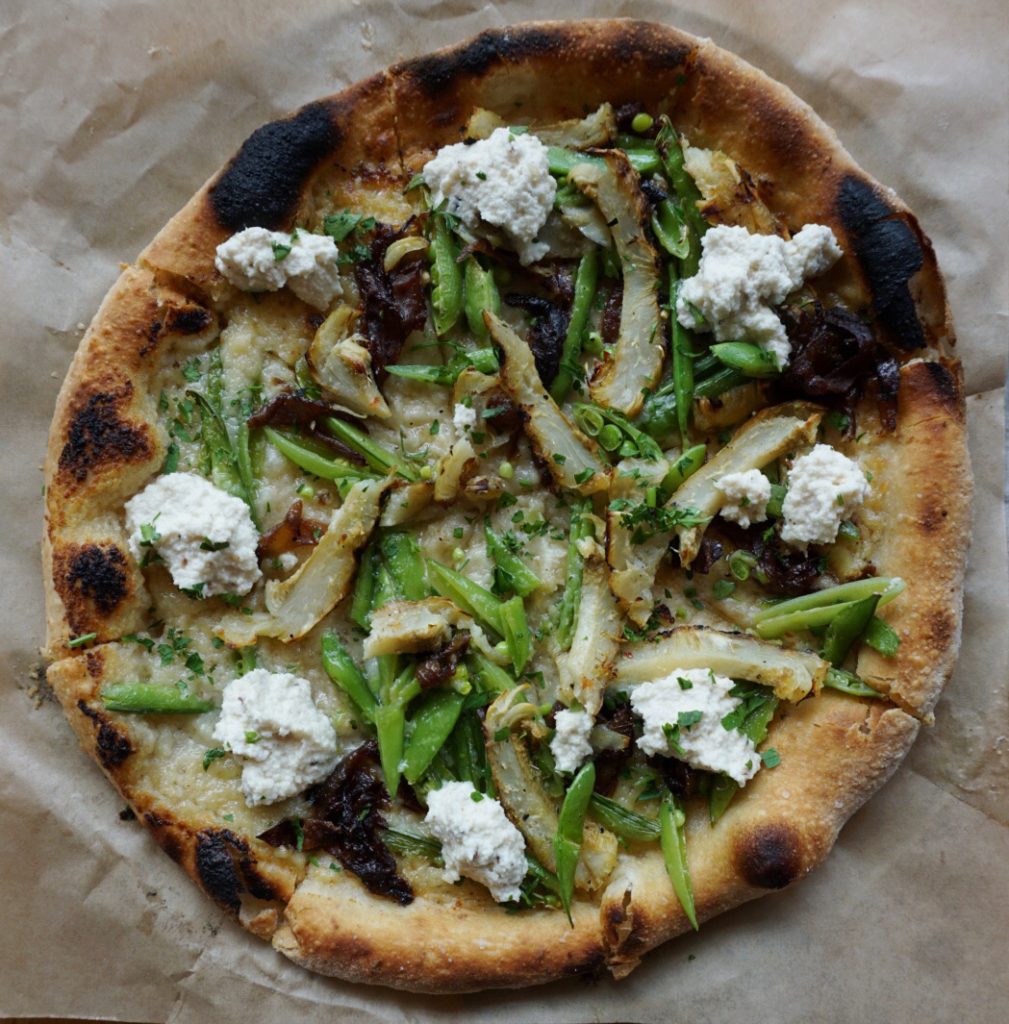 Poke Bowls are a food trend that I'm 100% on board with. Fresh fish, tasty veggies and a yummy sauce over a bed of rice? Yes, please! And True Food Kitchen's new poke bowl is another can't-miss bowl.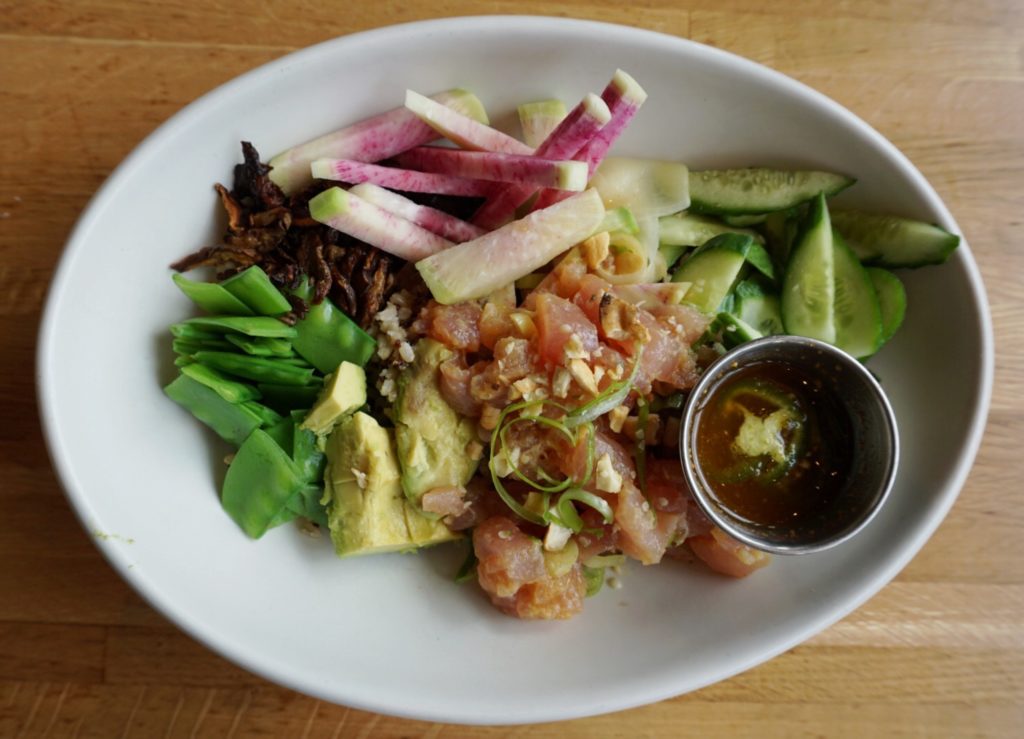 If you're going to remember one thing from this entire article remember this: the Ancient Grains Bowl is LIFE CHANGING. So apparently this one has been on the menu for a little while now, but I just tried it for the first time. After just a few bites it became my favorite dish at True Food Kitchen! I mean miso glazed sweet potatoes?! Get in my belly.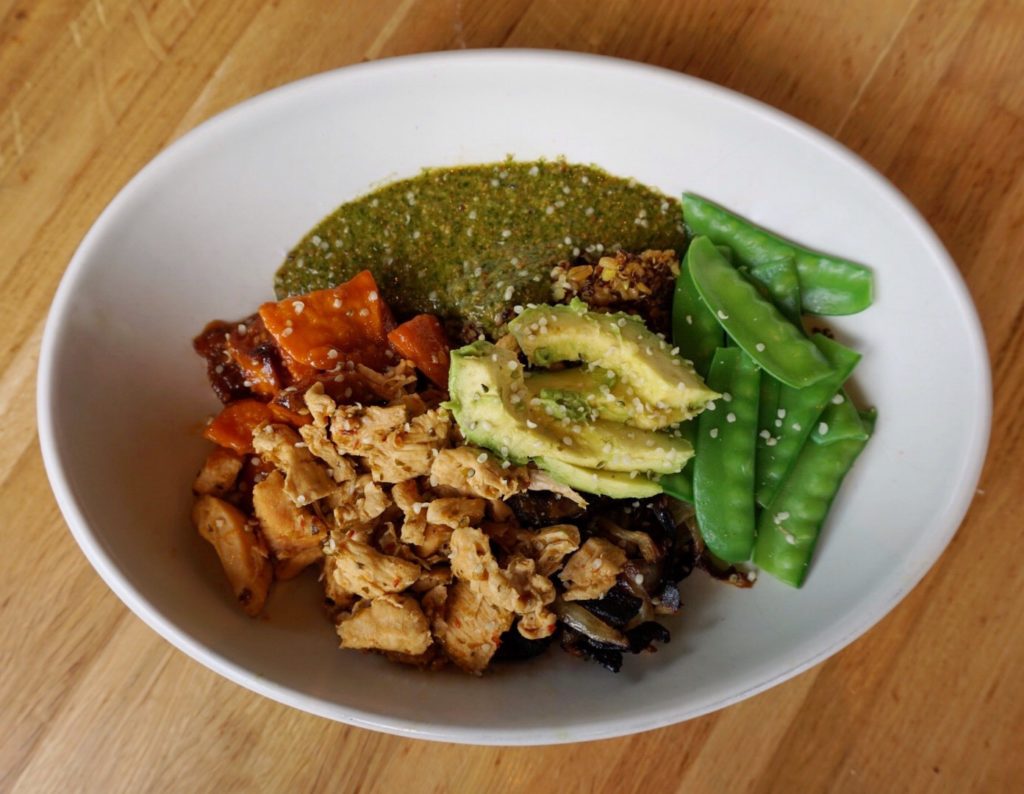 Roasted Artichoke Pizza: sugar snap pea, smoked onion, roasted garlic, vegan almond ricotta, black truffle
Poke Bowl: wild caught albacore, avocado, quinoa rice, mushroom, snow pea, cucumber, cashew, turmeric ponzu
Ancient Grains Bowl: miso glazed sweet potato, turmeric, charred onion, snow pea, grilled portobello, avocado, hemp seed
Dessert
Last but certainly not least was dessert! Being a Florida native, you'd think I was key lime pie obsessed, right? Well, I'm not. And to be honest I've never really liked key lime pie at all. But our waitress insisted we try it and who am I to say no to more food?
True Food Kitchen's Key Lime Pie isn't your average key lime pie. It has more of a custard-base and is topped with a coconut chantilly. And yes, I loved it!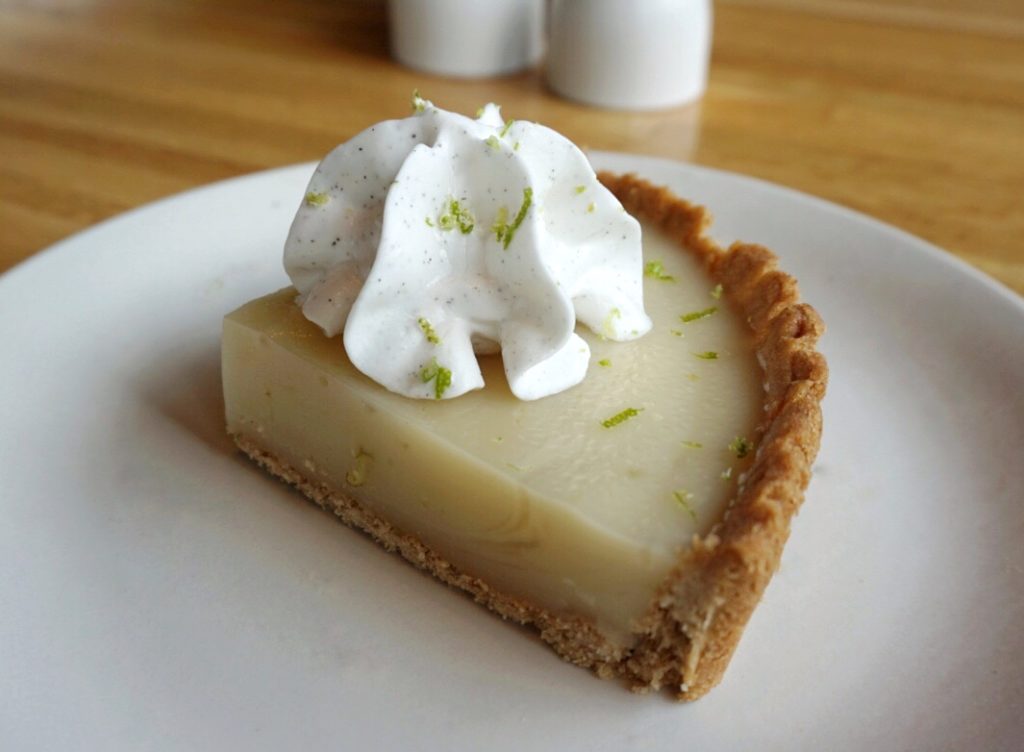 Key Lime Pie: with coconut chantilly
Have you been to True Food Kitchen lately? What is your favorite dish? Let me know in the comments below!
*This post was written in collaboration with True Food Kitchen but all thoughts and opinions about my experience remain my own.