In true Atlanta fashion, the weather has quickly turned from winter to summer. And while the heat and humidity might not be our favorite things, one thing we can all agree we love about summertime is festive, tiki drinks! So in honor of summer 2017, I decided to go out in search of some of the best summer cocktails Atlanta has to offer.
Frozen Ward Six Cup – Bon Ton
Since opening earlier this year, Bon Ton has made quite a splash in the Atlanta food and beverage scene. From the New Orleans/Louisiana fusion food to the endearingly tacky decor, Bon Ton brings a new and exciting atmosphere.
Bon Ton's Frozen Ward Six Cup is just as awesome as the color-changing cup it is served in. And yes, you get to take the cup home with you! Frozen drinks are a must in the summer, and it was refreshing to see a different take on the typical frozen cocktail.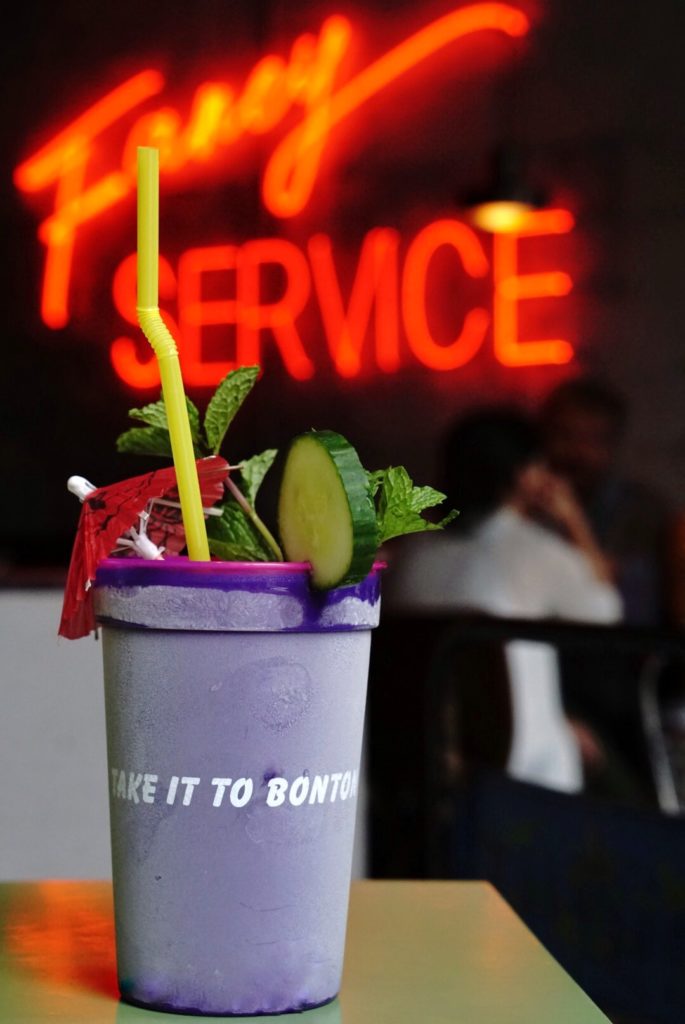 Sangria Poptail – Whiskey Blue
Popsicles were one of my favorite summer treats as a kid and they are one of my favorite summer treats now. Dunk it into a boozy cocktail and I am 100% in. Whiskey Blue is located on the top of the W Hotel in Buckhead, and it has one of the best rooftop patios in the neighborhood!
The bar kicked off its boozy poptail summer series with the Mini Pop Spritzer, a blue popsicle and glass of prosecco. Whiskey Blue's next poptail, the Summer Solstice Sangria, will be available from June 21 to June 28! Another poptail to get excited about is the Star Spangled Martini, served with a red, white and blue pop! This will be available from July 4 to July 11.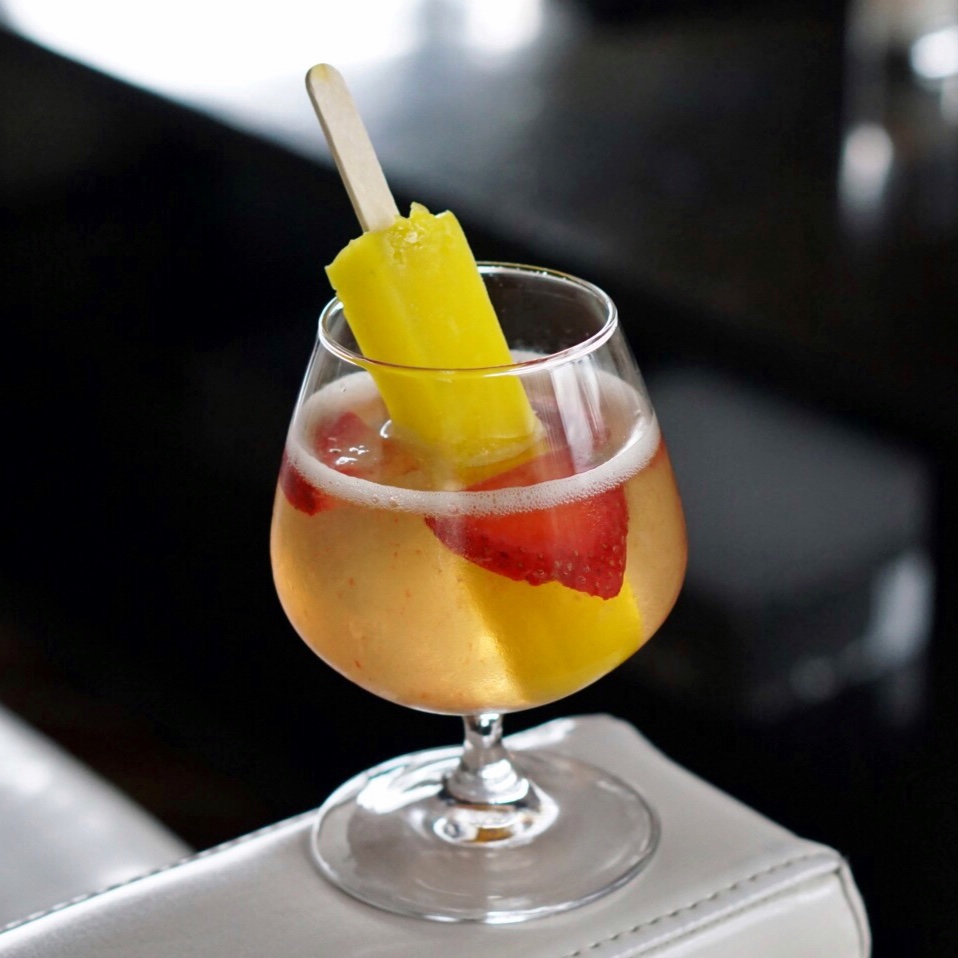 Pineapple 'Tiki Bomb' for Two – Tupelo Honey
I had been eyeing this cocktail from Tupelo Honey for quite some time and knew before even tasting it that it deserved a spot on this list. What could be more summery than a drink served in a real pineapple?! Add in the silly straws and a fruit kebab and you've got yourself the ultimate summer cocktail.
Luckily this drink – meant to serve two people – isn't just pretty, it tastes good too! It is made with Bacardi Dragonberry rum, triple sec and fresh fruit juices. I could get into some serious trouble with this tiki bomb!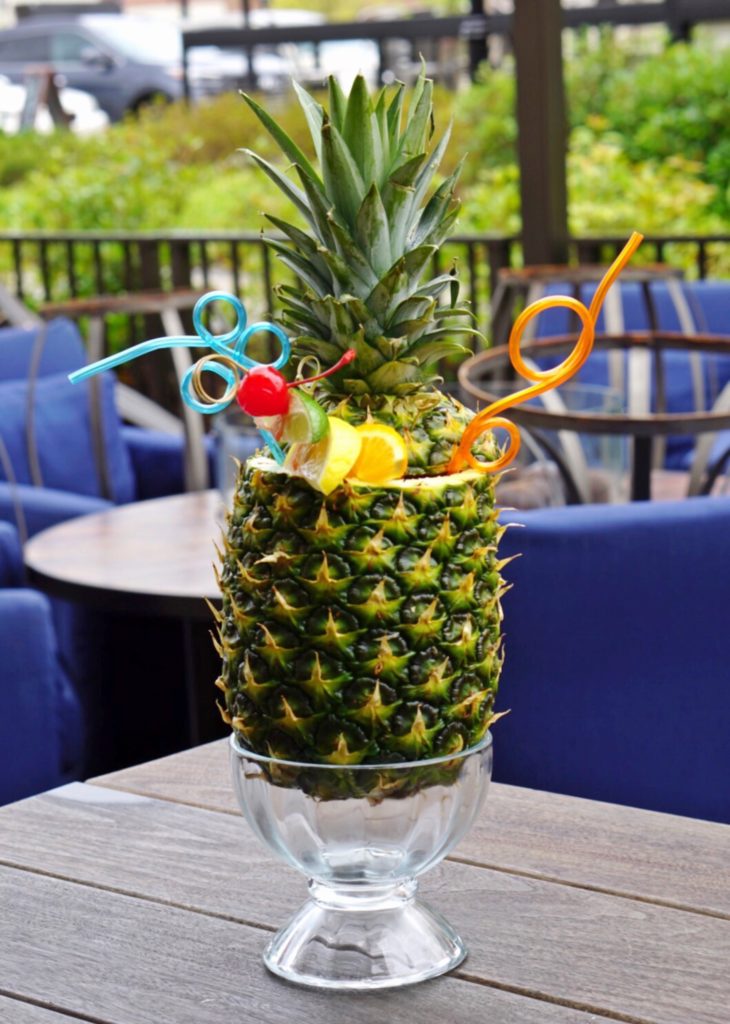 Scorpion Bowl – Trader Vic's
Sharing is caring, right? So be extra kind this summer and order a huge cocktail to share with your friends! Trader Vic's is located on the lower level of the Hilton in Downtown Atlanta, and it is themed like a tropical luau. And fun fact: Trader Vic's is home of the original Mai-Tai!
The Scorpion Bowl comes in a fun bowl with bright-colored straws. It is made with a "festive concoction" of rums, fruit juices and brandy with a whisper of almond. And it is meant to serve four people, so definitely go with a crew!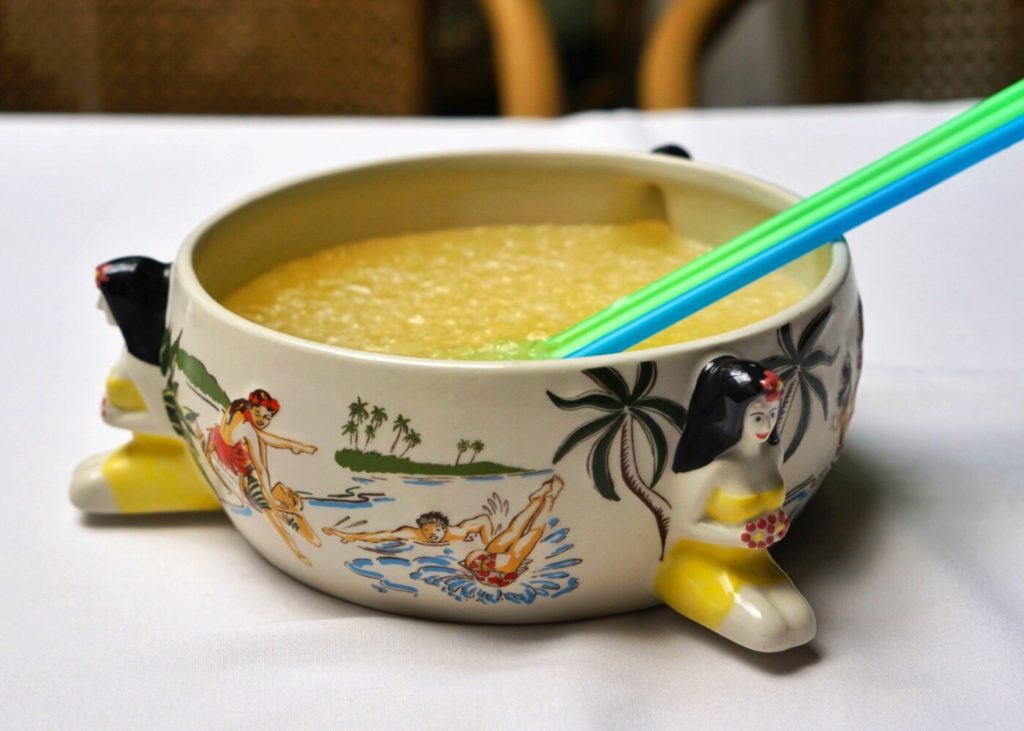 Prince Buster – SOS Tiki Bar
Brought to you by the people behind Victory Sandwich Bar, SOS Tiki Bar is a tiki-themed bar in Decatur. Everything from the retro drinks to the palm tree walls and neon lights make this place an awesome hangout. And be sure to take a close look at the punny menu!
I almost included SOS Tiki Bar's Mai Tai (it has some pyrotechnic magic going on) but instead landed on the fun and tasty Prince Buster. I mean look at those garnishes! This cocktail is made with aged rum, dark rum, cachaca, amaro, benedictine, lime, orange juice and cane. Strong and tasty. And pay an additional $5 to take home this cool cup!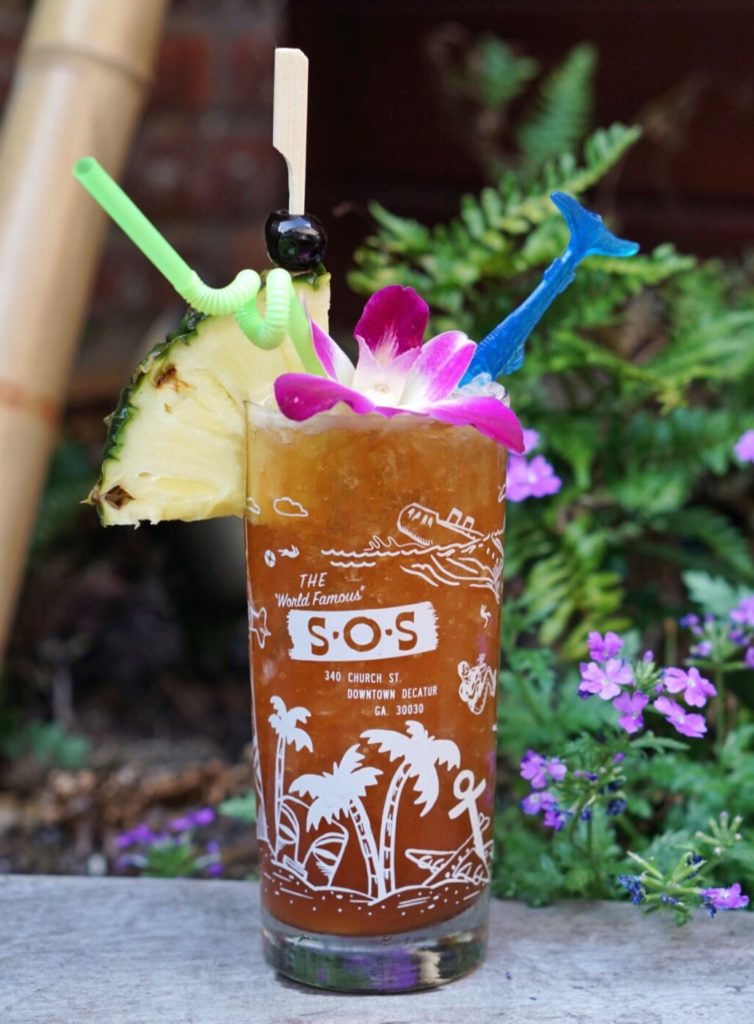 Jeffery's Bay – Yebo Beach Haus
The decor and food at Yebo Beach Haus make you feel like you're on an island! And the Jeffery's Bay cocktail just adds to those beachy vibes.
This cocktail comes in three sizes: the derby cup is for one, the pineapple is for two and the flamingo punch bowl (yes, it comes with a ladle) is for four or more! The cocktail itself is made with elyx vodka, hibiscus infused rum, pisco, ginger syrup, grapefruit juice and orange bitters. It's the perfect drink for patio sipping!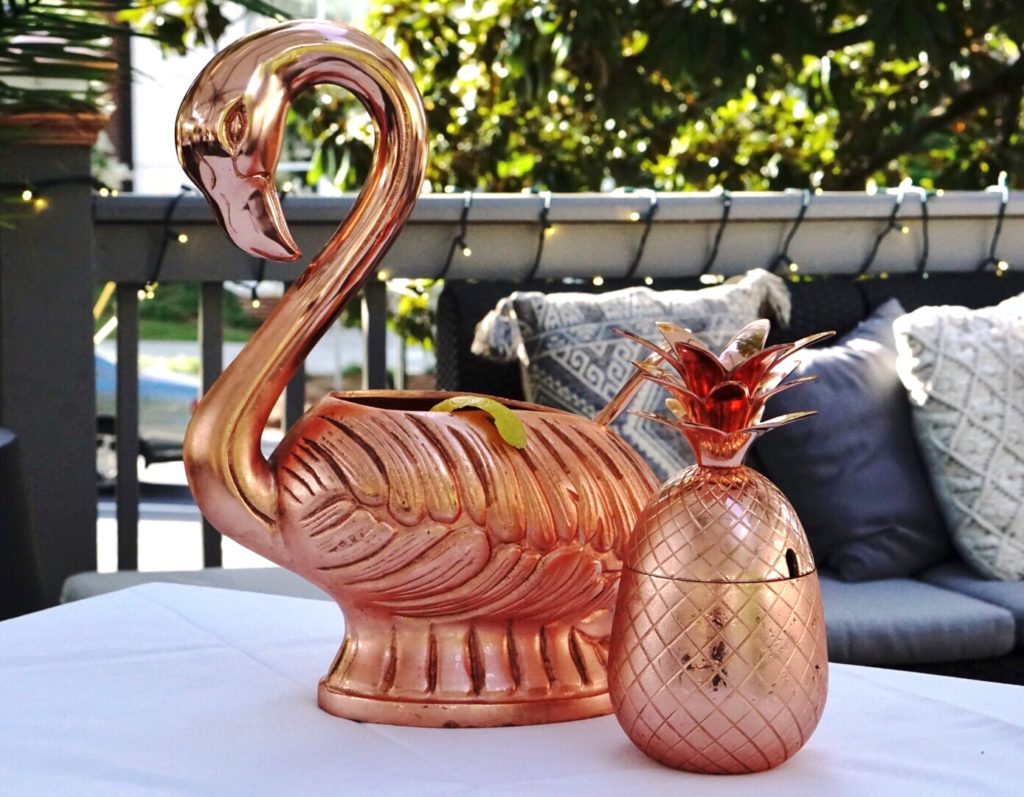 Rupert's Revenge – Brine Seafood Shack
I have always loved Avalon, but I fell even more in love after the second phase opened up. The new shops and restaurants are all amazing! One of my favorites is Brine Seafood Shack. And who doesn't love delicious seafood on a hot summer day?
Brine serves fun tiki-style drinks to pair with its fresh seafood. Rupert's Revenge is Brine's take on a Piña Colada. If you close your eyes while drinking it you can almost see yourself sitting on a lounge chair at the beach…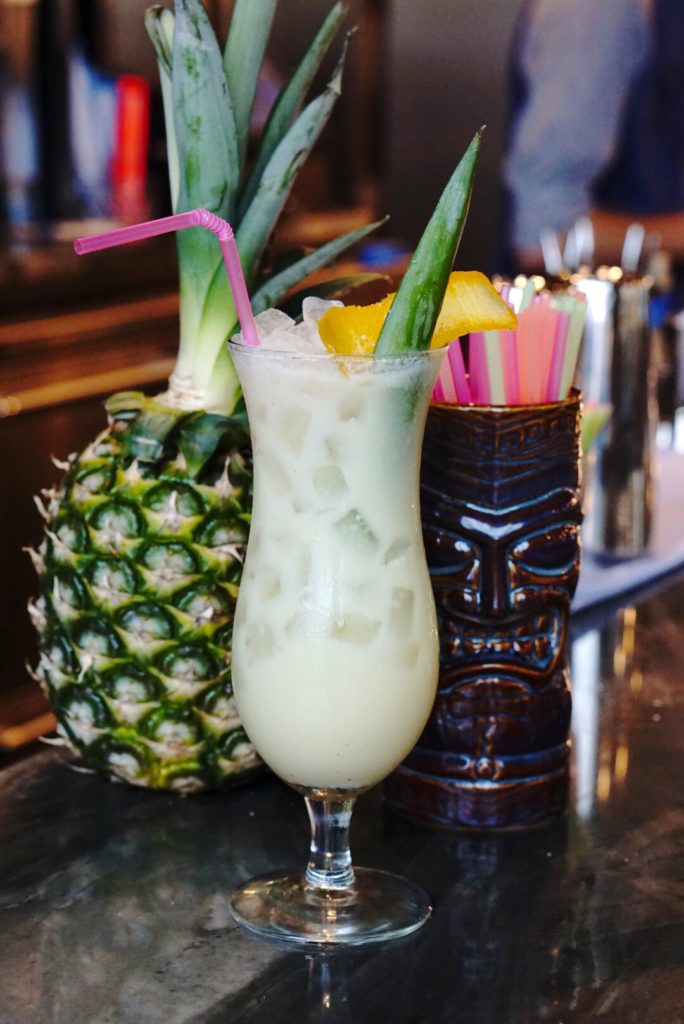 Which of these summer cocktails will you be adding to your ATL summer bucket list? Let me know in the comments!