Grub Burger Bar may have started in Texas, but it has certainly put down roots here in Atlanta. It is a fun, casual restaurant with killer food and drinks. I visited Grub last week and tried a ton of different menu items – each one better than the last! Check out some of my favorites from Grub Burger Bar.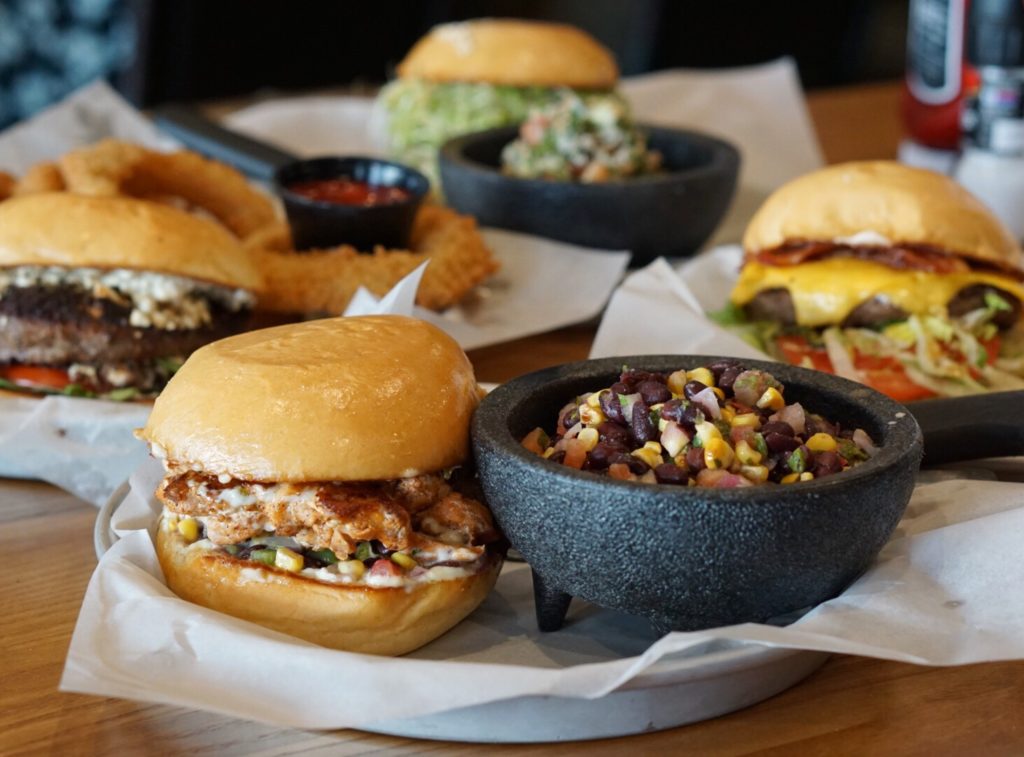 Bacon Love #9
First up was the Bacon Love, a traditional patty with Applewood smoked bacon, American cheese, pickles, lettuce, tomato and Grub's secret sauce. It may be one of the more "standard" burgers on the menu but it is packed with flavor – especially with the addition of the bacon and special sauce!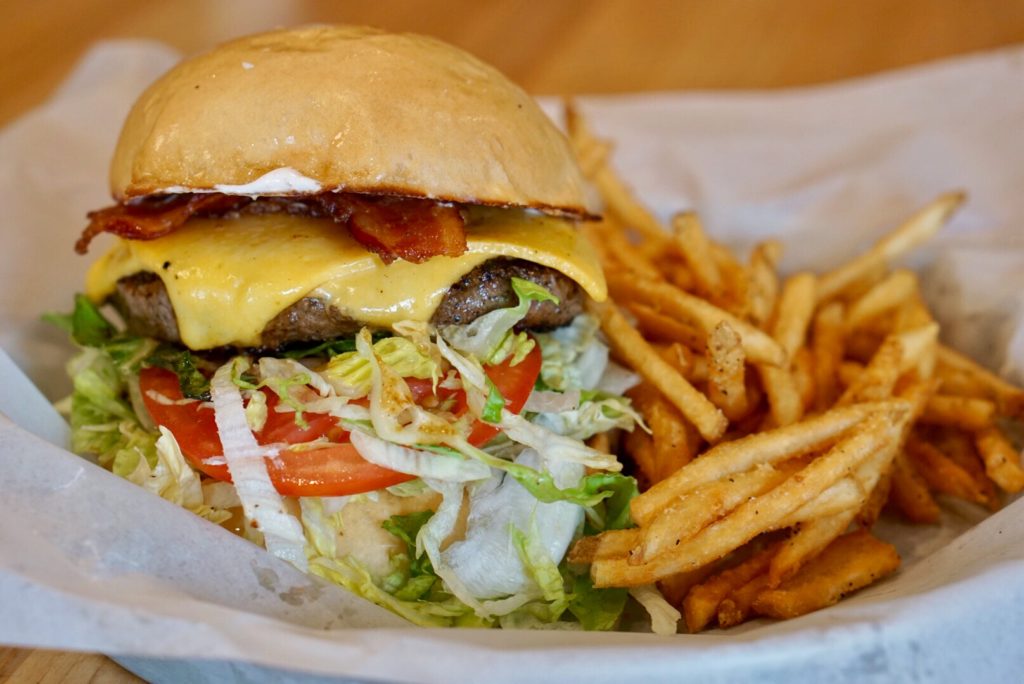 Jive Turkey
If you're not a huge red meat fan, I definitely recommend the Jive Turkey. It was one of my favorites! Shown here with fresh tabbouleh, this turkey burger is topped with bacon, Swiss cheese, sprouts, avocado and chipotle aioli. Anything with avocado is a win in my book, and this burger is no different.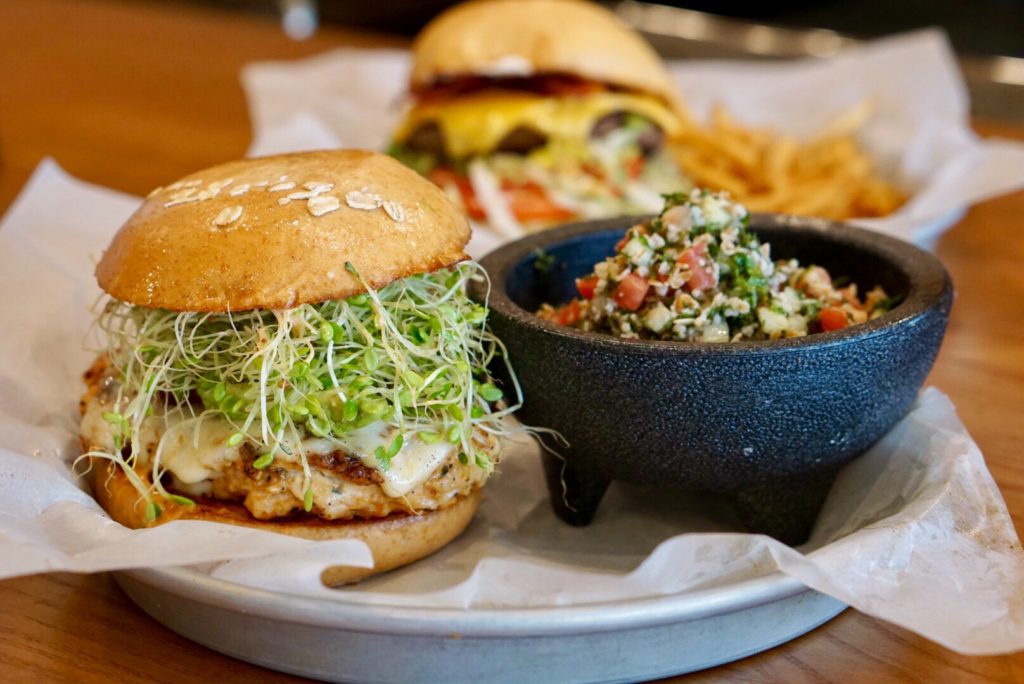 Lockhart Legend
Looking for something truly unique? Order the Lockhart Legend! This burger comes dressed with Applewood smoked bacon, cheddar cheese, sliced dill pickles, two onion rings and a Dr. Pepper BBQ sauce! It is nearly impossible to eat, but absolutely worth the mess. Now you don't have to choose between onion rings and fries!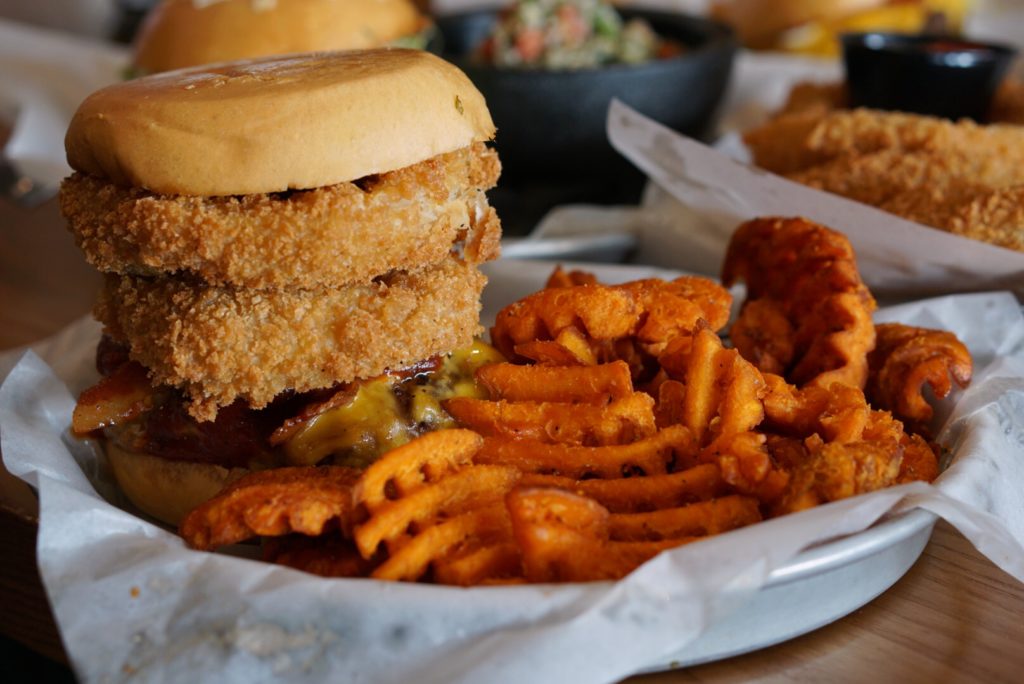 Wild Alaskan Salmon
The Wild Alaskan Salmon is incredibly fresh and tasty – and pescatarian friendly! The salmon is cooked perfectly, but the real star of the show is the black bean & charred corn medley that accompanies the salmon burger. That same medley is also available as a side!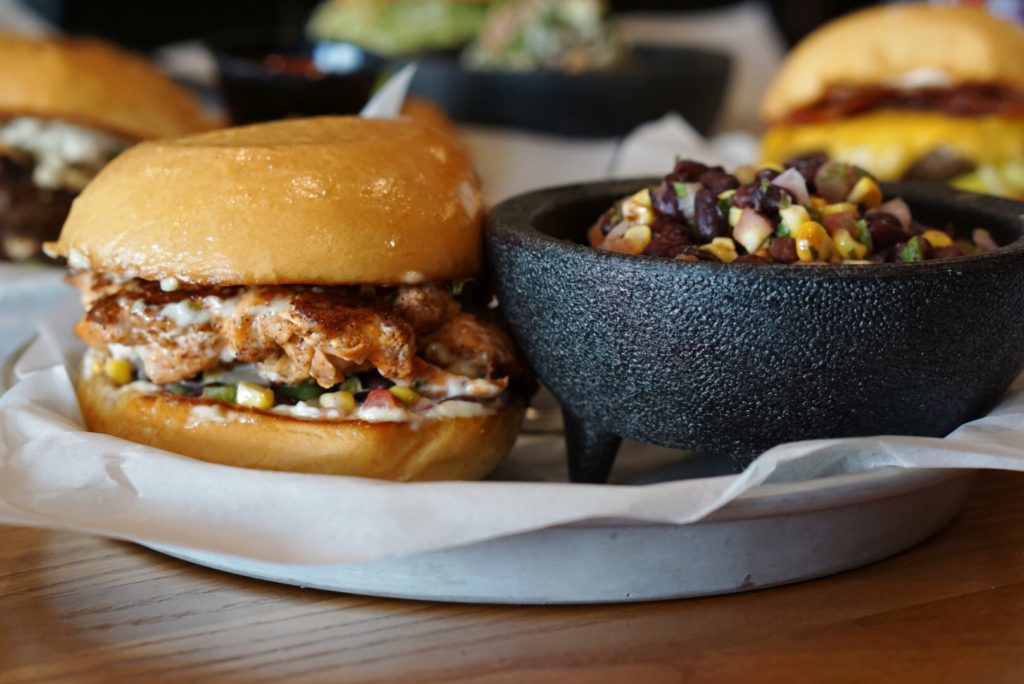 You're My Boy Blue
Caramelized onions make everything taste better. Add those, some crumbled bleu cheese, tomato and arugula to a burger patty and you get You're My Boy Blue. From the onions to the bleu cheese, this burger is bursting with flavors.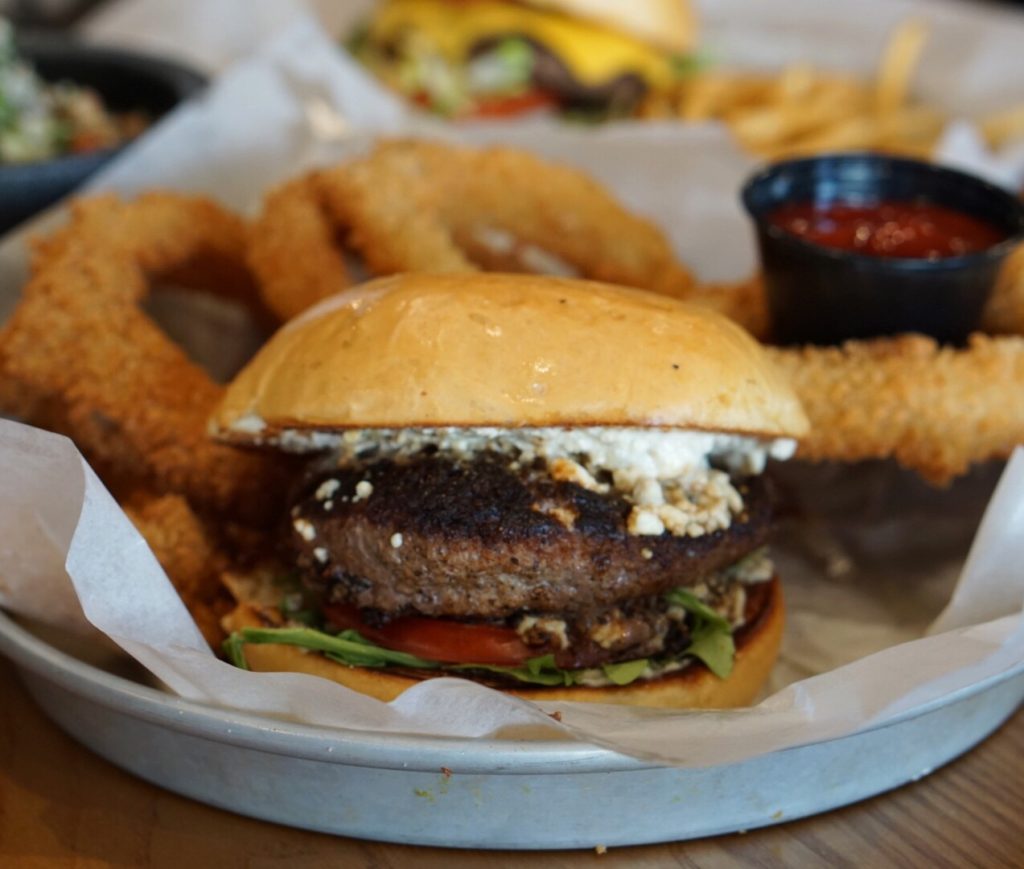 Chocolate Overdose
And you're crazy if you leave Grub Burger Bar without ordering some dessert! While Grub is known first for its delicious burgers, it has gotten quite the reputation for drool-worthy milkshakes. Grub even offers alcoholic milkshakes for anyone who is 21+! Booze & ice cream… is there anything better?
But I opted for a non-alcoholic shake that is every chocolate lover's dream, the aptly named Chocolate Overdose. It is made with chocolate ice cream, homemade crushed brownies, Oreos, and chocolate chips topped with more homemade crushed brownies, Oreos, chocolate chips and chocolate sauce! And can you believe this enormous chocolate creation is only $7?!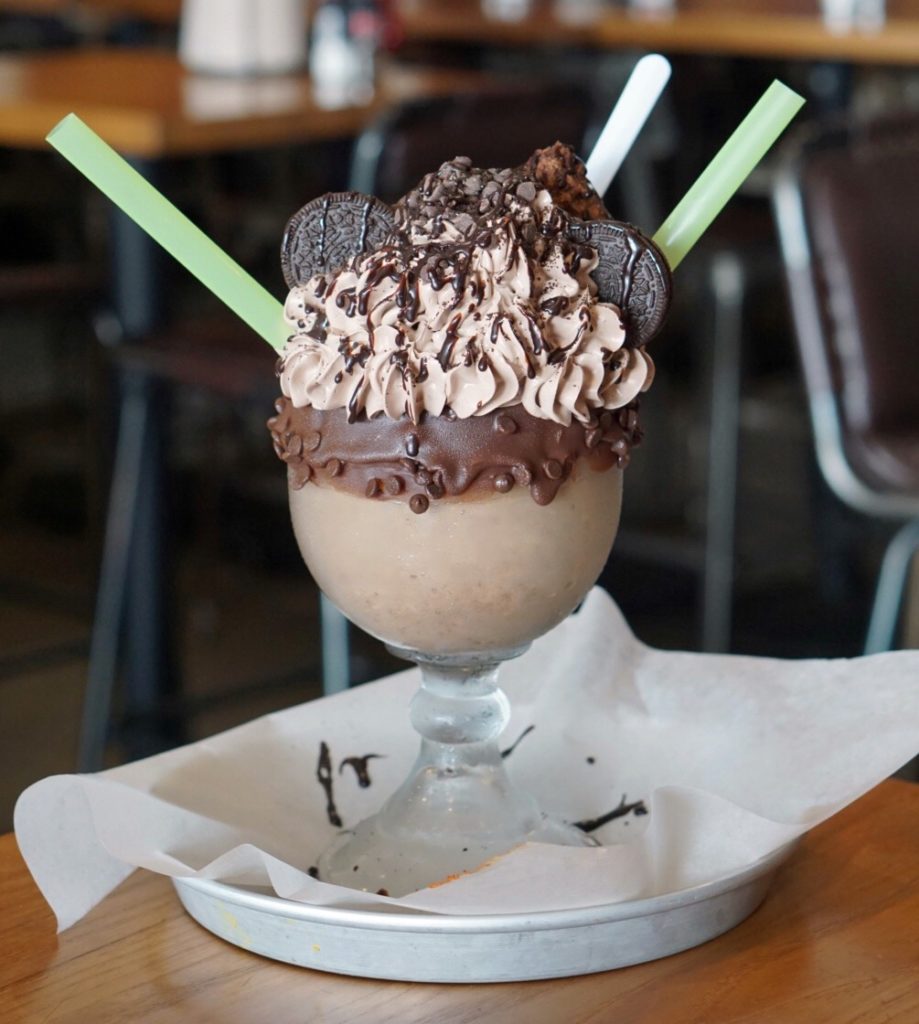 Us Atlantans are lucky enough to have three Grub Burger Bar locations: Druid Hills, Vinings and Cumming. So no matter where you live in the city, you can enjoy these delicious burgers, shakes and more.
Which burger would you order? Let me know in the comments below!
This blog post was written in collaboration with Grub Burger Bar but all thoughts and opinions remain my own.