Illegal Food is a Virginia Highlands restaurant that focuses on made-from-scratch food and top notch ingredients. (Even the ketchup is homemade!) And while people may know this pop-up turned full-fledged restaurant for its burgers and Okonomiyaki fries, Illegal Food's brunch is a must, too.
The menu is filled with unique dishes and delicious flavors. It was hard to pick just a few items to try! Plus, in a city where brunching is a lifestyle, it is nice to hidden gem where you can enjoy your favorite meal of the week. Curious what to order when you go? Here are some of my favorites!
Cast Iron Mac n Cheese
So I need to preface this by telling you this item (sadly) isn't always on the menu. Each Sunday, in addition to the standing brunch menu, Illegal Food provides a menu of "specials" to choose from. This mac n cheese was on that rotating menu. But man was it delicious! This mac was cheesy, gooey and just what you need on Sunday morning.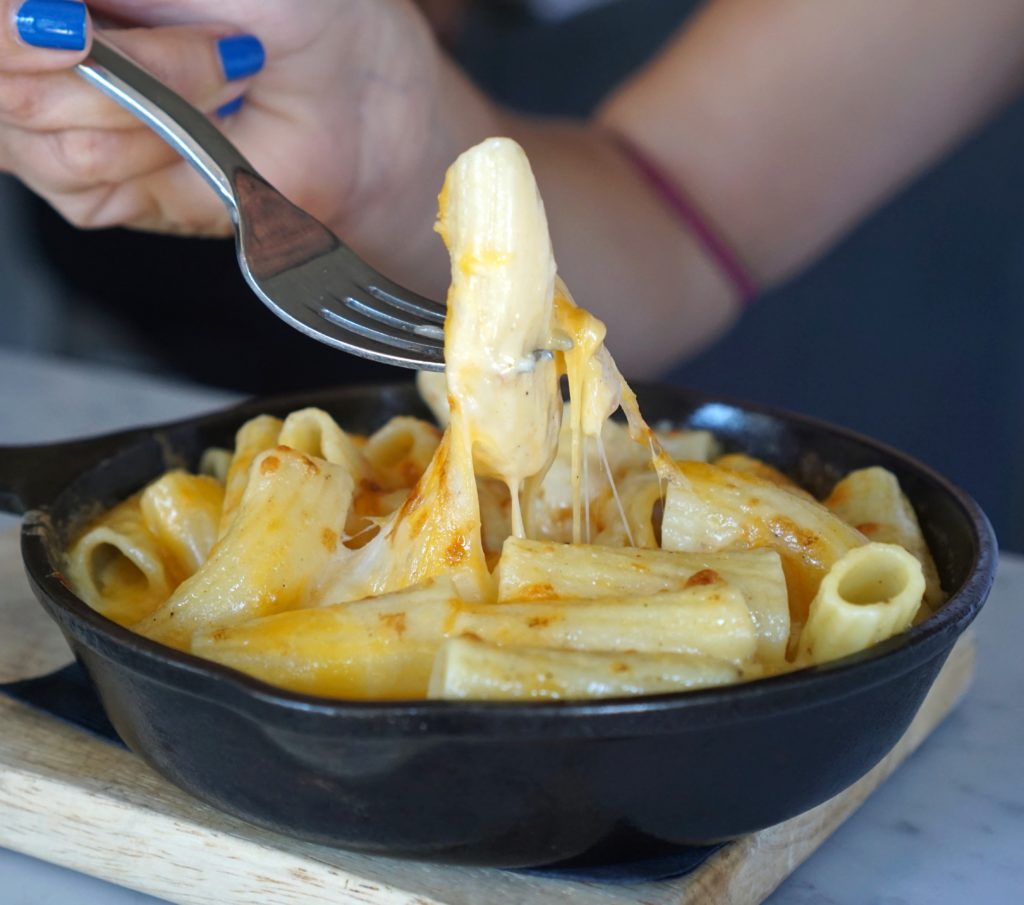 Biscuits, Butter & Jam
Like any good southern brunch spot, Illegal Food has amazing biscuits. They are HUGE and fluffy – two great characteristics in my opinion! But the best part has to be the homemade butters and jams. Sorghum butter, apple butter, strawberry jam… you name it! It took all of my strength not to lick the containers clean.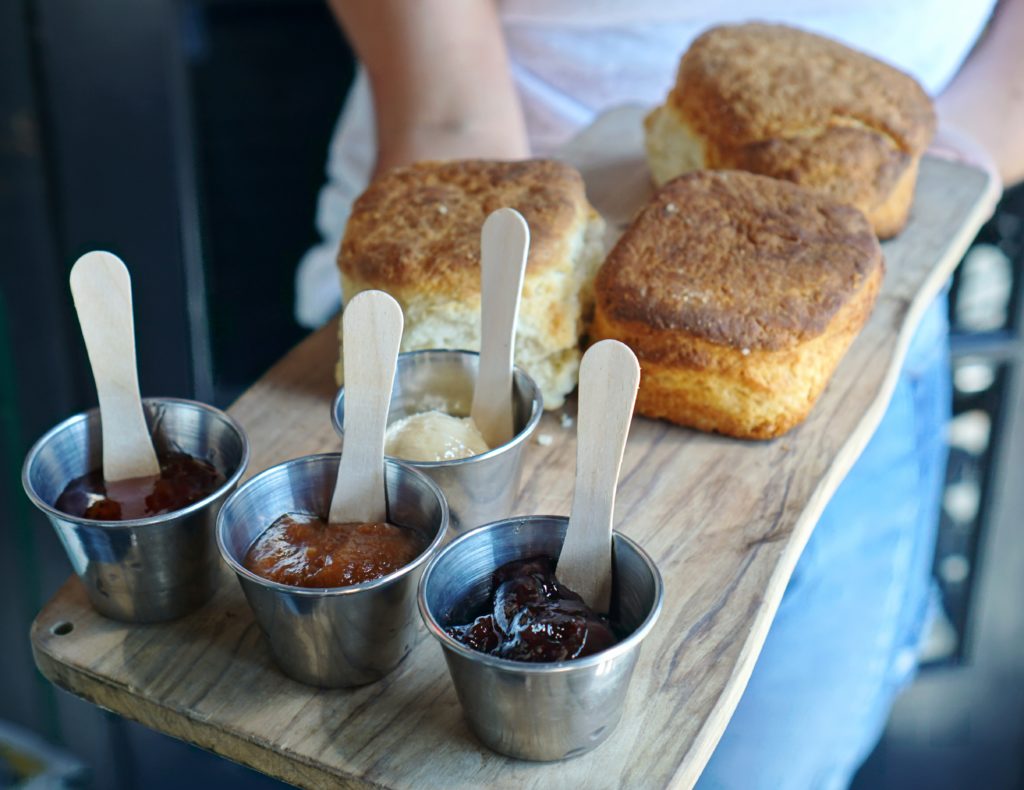 O.D.B.
The O.D.B. is for all of you adventurous eaters out there. It's made with a Krispy Kreme donut bun, a beef burger, american cheese, house-cured bacon, an over-easy egg and maple mayo. Some of you are probably salivating and others are not-so-sure, but I'm here to tell you Illegal Food somehow makes this interesting pairing taste great. Plus, who doesn't love a good glazed donut?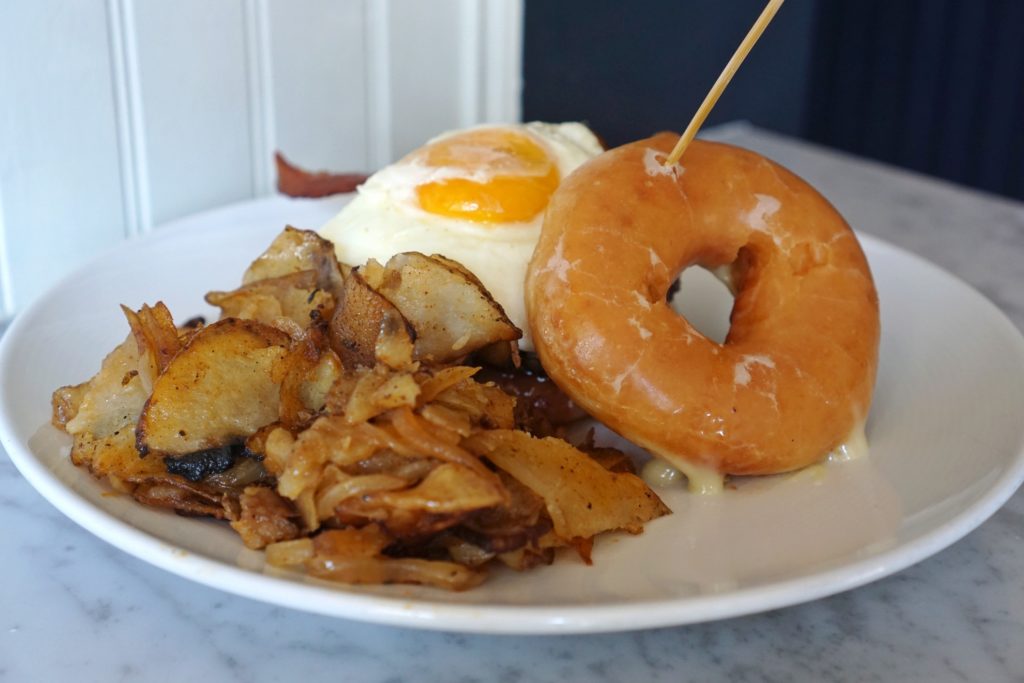 Chicken & Waffle Sandwich
While everything I tasted was delicious, there was a clear winner in my opinion: the chicken & waffle sandwich! I'm a sucker for the sweet and salty combo, and I would go as far as to say Illegal Food's fried chicken might be one of the best I've ever tasted! Add a few fluffy waffles and maple syrup and you have a winning combination.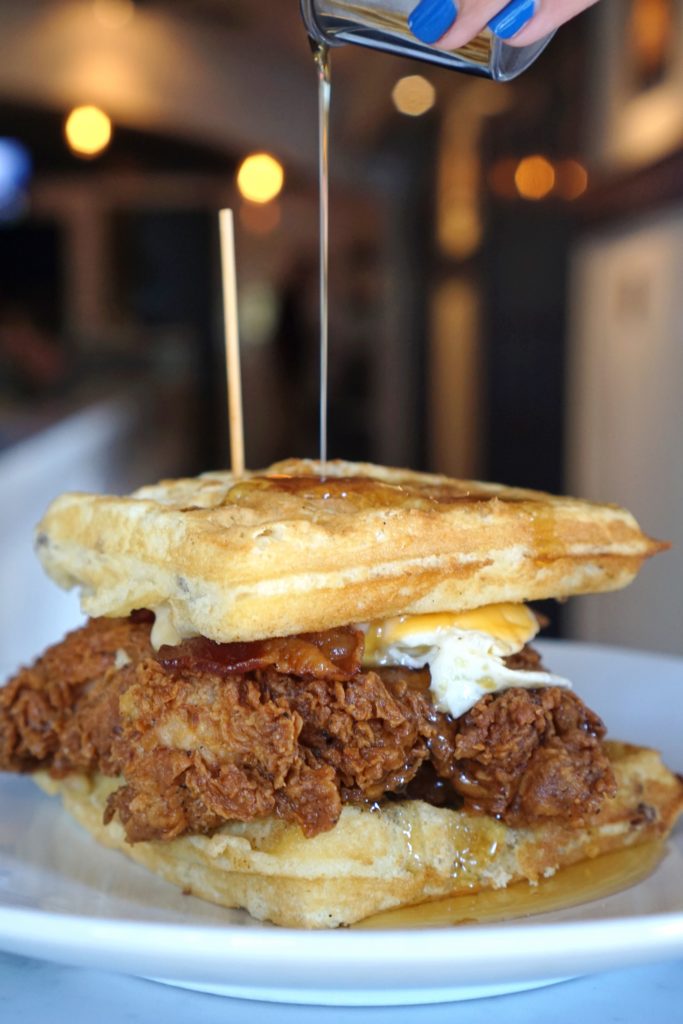 Have you ever dined at Illegal Food? What did you think of it? Let me know in the comments below!