While I do admit I eat out a lot (I mean just look at my Instagram account!), I also enjoy the nights I stay in to make a home-cooked meal. And when it comes to cooking, finding the freshest meats, vegetables, cheese and more is so important to me. I have always been a regular at The Fresh Market and was so excited to hear they were re-opening bigger and better stores in Atlanta!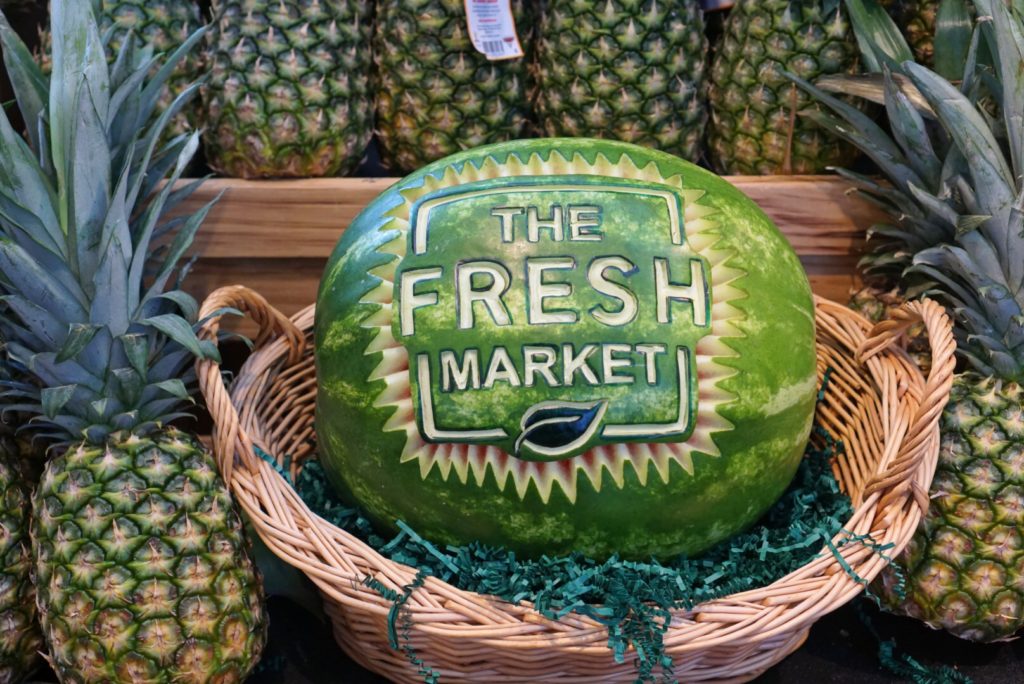 Newly Reopened The Fresh Market
I stopped by the Briarcliff The Fresh Market last Wednesday for the grand re-opening and loved the refreshed look. I was greeted with new and more descriptive signage, an expanded selection of food and – most importantly – food samples! And while opening weekend was filled with giveaways and food demos, so much of what made the re-opened grocery store so great will be available every week!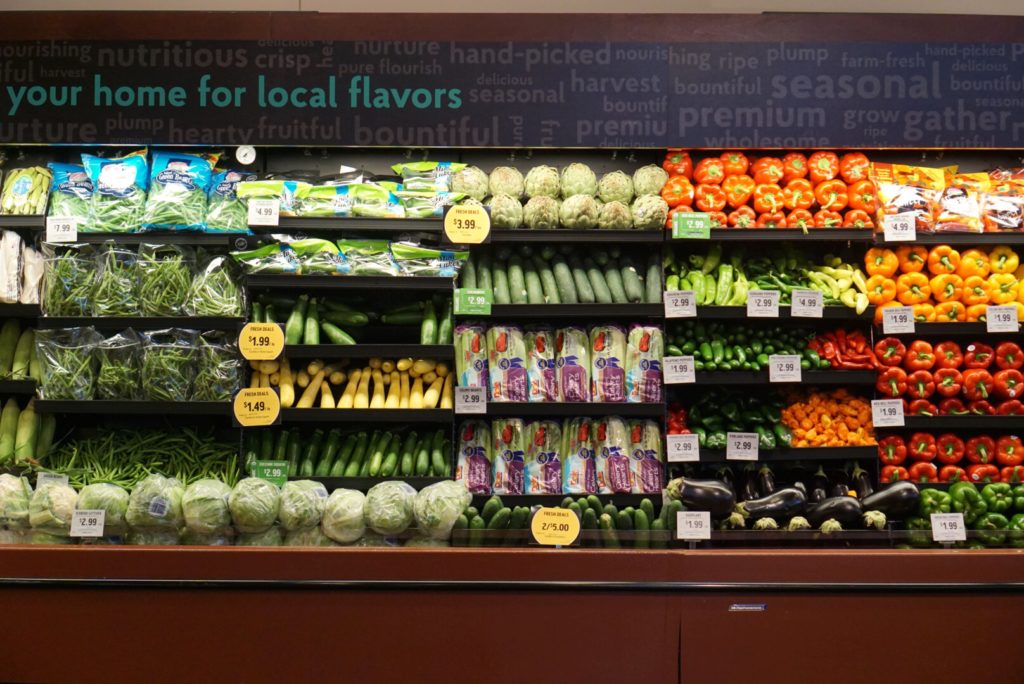 While sampling my way through the store, I filled my shopping cart with local products, fresh produce and some sweet treats, too! But my favorite find was definitely the "Meals in Minutes." If you're like me and sometimes find it hard to find the time to cook a full, healthy meal, you'll love these! Just throw one of them in the microwave for 4-5 minutes and you're ready to go! I went with the salmon and asparagus, and I can't wait to get another.
With it being summer, I also picked up a few ingredients to make a refreshing dessert! Thanks to The Fresh Market's website, I was able to find an easy-to-make recipe in just minutes. Need some cooking inspo? Check out these recipes by The Fresh Market. And keep reading if you want to hear about an easy and delicious ice cream dessert I whipped together in minutes! (Hint: It features Honeysuckle Gelato!)
Strawberry Balsamic Sundae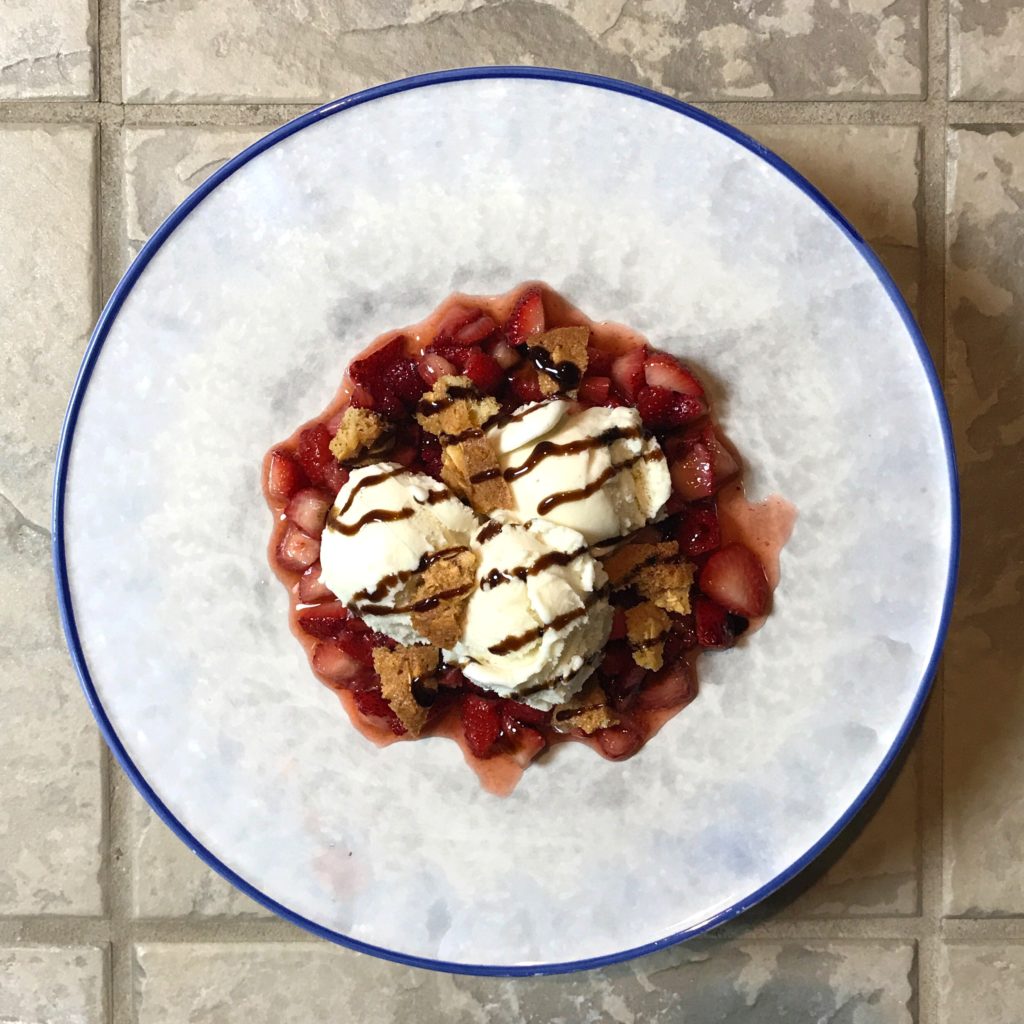 Ingredients:
1 lbs. strawberries, divided
½ c. packed light brown sugar
1 tsp. vanilla extract
¼ tsp. kosher salt
4 c. vanilla bean gelato (I recommend Honeysuckle Gelato!)
¼ c. balsamic glaze
Almond cookies, for serving
I really loved this dessert because it was easy to make, light and refreshing and perfect for groups! So next time you're asked to bring something for the potluck, this dessert should be your go-to.
First you will chop up half of the strawberries and mix them into a big bowl with the brown sugar, vanilla and salt. Then just let this mixture sit at room temperature for 30 minutes.
After the waiting is over, slice the remaining berries and add them to the bowl. Next you scoop the strawberry mix into individual bowls (or in my case, onto a larger platter) and top it with ice cream. Then you will break up the almond cookies and sprinkle them above the ice cream. Last but not least, you will drizzle the balsamic glaze on top.
Not only was this recipe easy and delicious, but it also required minimal ingredients – all of which are available at The Fresh Market!
Do you shop at The Fresh Market? What are some of your favorite finds? Let me know in the comments below!
This blog post was written in collaboration with The Fresh Market but all thoughts and opinions remain my own.